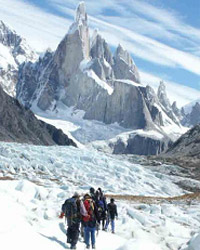 This unique trip allows us to discover Southern Patagonia on Winter, its more unknown season. The snow, the frozen lagoons and frozen water cascades, the short days and the special winter southern light open to the visitors the doors of a different world. wild and unforgettable, inside Los Glaciares National Park.

This outdoor trip is low demanding on the physical effort side, but you will have low temperatures. The winter season implies to change the outdoor rules and to adequate the activities to the weather, ground, and snow. If the winter has a lot of snow, we will use snowshoes to hike until the viewpoints of each trail. By the evening, we get back to our lodge to enjoy a hot meal and a cozy fireplace.

This program visits Los Glaciares National Park, Fitz Roy & Cerro Torre and the Perito Moreno glacier. This is a regular group hiking activity with a minimum of 2 travelers.

Departures 2016: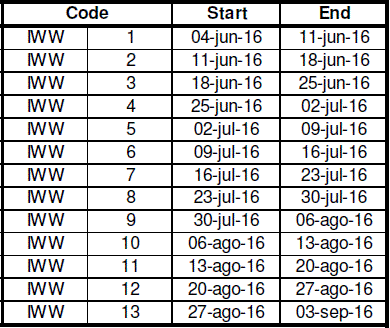 8 days - 7 nights

Season: July to October

Begins: Saturdays

Starts at: El Calafate Airport (FTE).

Ends at: El Calafate Airport (FTE).





Itinerary
Day 1: El Calafate – El Calafate airport
We receive you at El Calafate Airport from there you are transferred to El Calafate town. Check in at your lodge and spare time to visit this picturesque village.
Lodging at Hostel shared room & bathroom.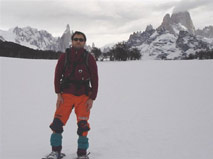 Lodge option: Inn Room double or single base with private bathroom.
Meals included: none

Day 2: El Calafate – El Chaltén
After breakfast we travel by bus to El Chalten, a little and colorful town next to Mount Fitz Roy. To arrive to El Chalten we will cross 220 km through the Patagonia steppe and we will stop over on route for coffee and to enjoy homemade cakes. Approaching town we will have spectacular views of the mountains and of Glacier Viedma. After arriving, we will have time to go around the town and its viewpoints, and get used to winter conditions.
Lodging at Hostel shared room & bathroom.
Lodge option: Inn Room double or single base with private bathroom
Meals included: breakfast (B) and dinner (D)

Day 3: El Chaltén – Fitz Roy trail
After breakfast we go hiking to the Fitz Roy trail. This trail starts on the north side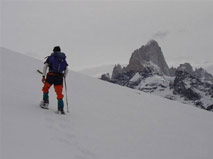 of the town. A gentle slope leads us to the first viewpoint over the River de las Vueltas valley, and we hike on to Laguna Capri and the first sights of Mt. Fitz Roy. Laguna Capri should be frozen by this time of the year, giving us the chance to get a unique picture of the frozen lagoon with Mt. Fitz Roy spires and glaciers in the background. From Capri we already have full views over Fitz Roy. If conditions are OK, we hike towards Rio Blanco, Fitz Roy base camp for climbers. Once at the base camp and depending on weather and terrain conditions those who want can continue trekking with snowshoes to Laguna de los Tres, a spectacular viewpoint for Mt. Fitz Roy massif, spires and glaciers. During this trek we climb 500 meters to get to the first viewpoints and 400 more meters if we climb to Laguna de los Tres. We carry snowshoes and we use them when necessary. Walking time depends on the conditions of terrain but please consider a full day hiking.
Lodging at Hostel shared room & bathroom.
Lodge option: Inn Room double or single base with private bathroom
Meals included: breakfast (B), box lunch (BL), dinner (D)

Day 4: El Chaltén - Cerro Torre trail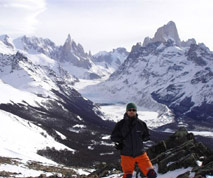 We trek today the Torre valley. This valley starts as a glacier valley in the Laguna Torre reaching the town of Chalten as a fluvial valley. Is shorter and with less gain of altitude than Mt. Fitz Roy trail. We hike to a first viewpoint of the glacier part of the valley after a first hour of walking. Depending on the weather conditions, we will continue hiking to reach the lagoon, natural viewpoint for the group of ice-mushroom-covered spires of Cerro Torre massif. The lagoon should be frozen and we can cross it over the more than 75 cm (30 in) ice thickness up to the front of Glacier Grande. Its blue colour and dimensions are breathtaking. Weather, conditions and time permitting we can try to make some basic ice climbing in the frozen waterfalls which hang in the sides of the lagoon. We hike back to El Chaltén in late afternoon.
Lodging at Hostel shared room & bathroom.
Lodge option: Inn Room double or single base with private bathroom
Meals included: breakfast (B), box lunch (BL), dinner (D)

Day 5: El Chaltén - El Calafate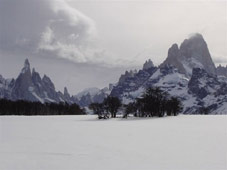 Morning at leisure to rest or to take different optional alternatives that Chalten offers: a walk to Cerro Pliegue Tumbado with beautiful sightseeing points over Mt. Fitz Roy, Cerro Torre and the glacier valley in between. Or to visit estancia Madsen (home of the first european immigrant that settled in the valley) or the Chorrillo del Salto waterfall, that should be half frozen in this time of the year. In the afternoon we take our bus back to El Calafate where we will be transfered to our lodge.
Lodging at Hostel shared room & bathroom.
Lodge option: Inn Room double or single base with private bathroom
Meals included: breakfast (B)

Day 6: El Calafate - Perito Moreno Glacier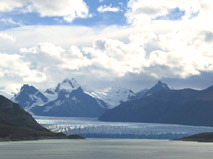 We dedicate this day to one of the World's Natural Wonders: the Perito Moreno glacier. After breakfast we travel by bus, on a road that allows us to go through the folds left on the steppe by the glaciers, to the Magallanes peninsula where the southern entrance of Los Glaciares National Park is located. Its major attraction is the Perito Moreno Glacier which, because of unusually favorable local conditions, is one of the world's few advancing glaciers. This ice field-type glacier flows down from the Patagonia Icefield, a big ice surface that with its 22.000 square kilometres is the third largest glacier area in the world, after Antarctica (14 M sq km) and Greenland (1 M sq km). The Perito Moreno Glacier is the only one in the world that shows a closure and rupture process. The Glacier is more bright in winter than in summer, with a more intense blue surrounded by the green from the Cohiue trees and the white snow. Huge icebergs from the glacier wall collapse into the De los Tempanos Channel. The roar of the gigantic ice rocks falling and crashing into the waters of the channel is a unique experience. Our bus will lead us just in front of the Glacier, allowing us to walk and view the Glacier from different viewpoints. We return to El Calafate using a different route. We will drive 80 km (1 and a half hour) to get and then again to come back from the glacier across the steppe, watching a wide variety of birds. Our way to the Glacier is plenty of birds. Huge icebergs from the glacier wall collapse into the De los Tempanos Channel in a magnificent scenery. The roar of the gigantic ice rocks falling and crashing into the waters of the channel is a unique experience.
Lodging at Hostel shared room & bathroom.
Lodge option: Inn Room double or single base with private bathroom
Meals included: breakfast (B)

Day 7: El Calafate - Optional Boat Trip on Lake Argentino
This is a free day and you can choose some of the options that El Calafate can offer. The most advisable is to go sailing in the catamarans that make the trip to the glaciers which calve in the west arms of Lake Argentino. Among them are glaciers Upsala, Spegazzini and Onelli, Bolados and Agassiz glaciers in the area of Laguna Onelli. Also 4 wheel drive excursions and horseback riding is available at El Calafate.
Lodging at Hostel shared room & bathroom.
Lodge option: Inn Room double or single base with private bathroom
Meals included: breakfast (B)

Day 8: El Calafate - Ushuaia
After breakfast we transfer to the El Calafate Airport (FTE) where our trip finish.
Meals included: breakfast (B)

Price: 1288 u$d (Hostel - shared room)
1475 u$d (Inn - double base)
1844 u$d (Inn - single base)

Included services: Incoming Services, Bilingual trekking/mountain guides during the excursions, 7 nights hostel or inn, 7 breakfast (B), 2 box lunch (BL) and 3 dinners (D), all transfers from/to airports in Patagonia, Trek to Cerro Fitz Roy viewpoint, Trek to Cerro Torre viewpoint, Perito Moreno glacier excursion, . More information

Not included services: international and domestic flights, airport taxes, transfers in Buenos Aires, nights in Buenos Aires, drinks, foods not detailed, ticket entrance to 2 National Parks (5/10 u$d ea.), medical covering, tips, services not detailed in the program. More information

List of suggested personal equipment:
• Backpack, 50 lts approx.
• Trekking shoes or boots
• Thermal underwear
• Trekking pants
• Fleece
• Breathable parka and over pants
• Gaiters
• Gloves
• Thermal socks
• The necessary spare cloth
• Wool hat
• Sun hat
• Sun glasses
• Sun screen / block (UV is strong)
• Personal items
• Lamp
• Trekking poles (recommended, if you are used to them)
• Water bottle
• Photo camera & batteries
• Personal medication
• Garbage bags (we Leave No Trace)