---
What you say about us.
Comments from our travelers
"We came back after a wonderful trip in Patagonia. Everything was perfect, from the weather to the kindness of everyone we met there. In particular our guide for the hiking in El Chalten, was a great guy. Thank you so much Fernando for everything you did to make this trip an unforgettable experience. "
Michèle MARINEAU and François GRAVEL
"As you predicted, we had a fantastic PW8 trek. Guides Mariano and Juan were excellent. I really liked the Hostal los Pioneros. I felt very comfortable there,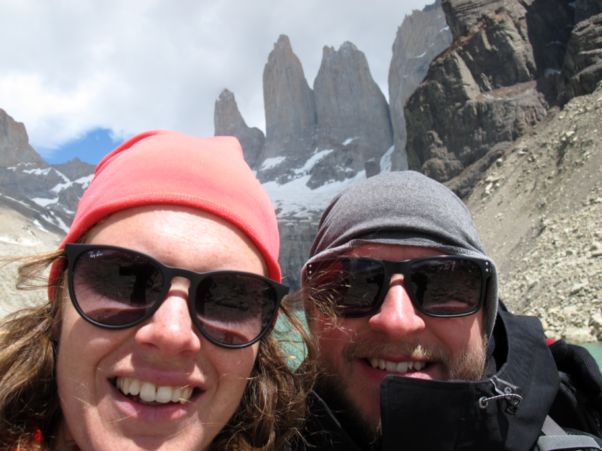 and the staff was very helpful and friendly "
Keith SAUER & Sam GITCHEL
"Just wanted to let you know that we had a great time at Torres del Paine. Thank you so much for helping us out with the booking, everything was great and was really worth the money! "
Daniel VÅTZ & Emma SANDELIUS
"Good trip! Southern Patagonia is mind blowing. Thank you."
Roy DWYER
"Finally yesterday evening we met all together, the first time after the patagonian trip, at Cenzo's place (Mr. Spada) for a good dinner and to see the picture of the trip. It was nice to see again the pictures of those that we already consider our friends, starting from you, Lucia, our tor leader, and all the guides and drivers we had along the way.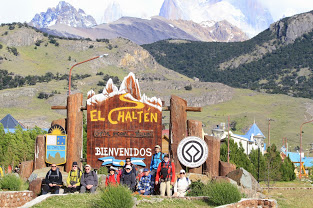 I never found in any other trip such friendly people as in this one. We all still remember your warm welcome on our arrival in Buenos Aires and when we saw the tented camps, we realized that we never could have done such a trip without the valid help of your organization, at least not so pleasantly. Everything was perfect: the tents clean and ready for us on the arrival, a warm tea welcomed us after a day of trekking, the beatufil landscape in every park, enhanced by the explanations of our guides, all of them invariably friendly and with greath knowledge of the territory under every aspect. Also the timing was right, you know I am not used to organized trip as I prefer to organize my trips myself, but I must admit I could not make any better: no wasted time and no useless pressure. I was happy to follow your advice when we choose the accomodation and the extension trips, finally I realized that they were wise. Last but not least, the expense, compared to the trip we made, was not exaggerated. As you know, I made the final part of the trip by my own, so I had the chance to compare your prices with the prices I paid by myself, there was not a great difference and the difference was well worth. I really hope to meet you again on my next trip to Argentina (I do not know yet when), this trip will remain in our memories for long. For now thank you for all you made for us. "
Rocco CURTALE
"El Chalten is unbelievably beautiful. Thank you for all your help "
David STRACHAN
"Back again from Patagonia and Antarctica, I just wanted to tell you that I really enjoyed the trip. Everything was well organized and I liked that it was a bilingual tour so there was a good chance to pick up some Spanish. I'm glad that we could walk our own pace most of the time. Even after hiking a lot here in NZ, I was very impressed by Patagonia. All personnel on the trip were great. Thanks."
Anders HENRYSSON
"I just wanted to thank you Fernando for all your help in organizing our trip. My friends and I had a fantastic time. You gave me great advice. I appreciate you being so responsive while organizing the trip and while we were there in South America. I will definitely recommend your company to my friends and family. I hope to make a trip again sometime in the future to Patagonia. It is really an incredible place! "
Raj UDESHI
"I am back from my fabulous trip to Patagonia. I enjoyed every single day, the trip was great,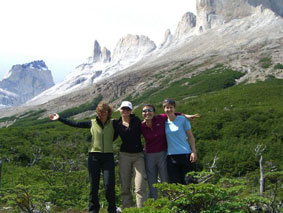 the tour leader (Javier) amazing, and I was lucky to be part of a great group. Weather was spectacular, and we were able to see Fitz Roy all the time. Unfortunately I had booked the trip for one week only, while the group continued their trip to Chile without me. I guess this is a sign that I should come back to see the rest of Patagonia. One of the highlights of the trip is definitely the "Holiday on Ice" experience and the Serac guides who took us on the ice. Amazing! Well, I hope to be able to come back soon, as my experience in Patagonia was so great! "
Mihaela MAZILU
"It was my best vacation in South America so far though this was also due to the group I luckily joined. PAT was great, Torres del Paine National Park was just mindboggling... so beautiful with it's turquoise lakes... I could have just stayed there forever... a great trip that I enjoyed a lot. Many thanks. "
Alina WALTER
"We are back in Switzerland and I would like thank you for organizing the trip, everything worked out perfect - and we enjoyed Patagonia very much. We were very lucky with the fantastic tour leader Hugo. It felt like traveling with a friend. I don't know which was my favorite place: Laguna Capri campsite, the Farm Estancia Las Hijas or the chocolate covered mountains in Chile"
Lotti & David SCHWENDENER REARDON
"Hi Fernando! We would just like to let you know what a wonderful time we had in Patagonia and thank you for all your help in booking the tour, the domestic flights, and transfers!!! Aaron and I got back to Canada a couple of weeks ago and have already been exchanging emails with all the wonderful people we met on the tour. We really enjoyed the tour and thought that Patagonia Adventure Trip and Camino Abierto did a wonderful job organizing all of the details. We loved Argentina too and would definitely like to return! There is still more that we would like to see and do there! And we would also like to return to the Fitz area and Torres del Paine! Beautiful!! Thank you again for a wonderful trip!!! Take care!"
Anna KRESS and Aaron HASE
"Fernando, I wanted to tell you how much I enjoyed my recent experience in Los Glaciares National Park. Everything was great including the weather which was extraordinary when we were in the mountains. Your staff was superb. Our guides, Peru and Paola, were wonderful. We had a very compatible group of people and I was surprised (but happy) to be the only American in our group of 7. You will see me again next year and I will certainly recommend your organization to anyone who is interested in this sort of adventure."
Michael GAST
"I often remember our splendid trip on the world's end, the magic Patagonia! The magnificent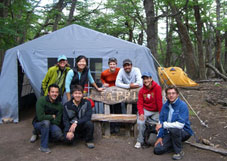 group that has formed there... we meet even after travel: with Birgit in Munich, with Joel in Paris, with Felipe in Rio de Janeiro. We became friends in Patagonia!"
Vadim TIKHONOV
"We really just wanted to say thanks very much for all your help in organizing our trip in Argentina. We had a truly wonderful time. The FGP trip was especially fantastic - we had a great group (very lucky) and overall the organization and itinerary was superb. There were some initial hiccups but overall Maria-Jose, the tour leader, did a great job and contributed a lot with her energy, passion and sense of adventure. We will definitely be back in Argentina and look forward to coming onto one of your trips again."
Tang Leng LEE & George TINGIS
"Torres del Paine is a beautiful place and Hector was a wonderful guide, one of the best ones I ever had anywhere in the mountains of this world ;-). The weather was quite okay as well, so that I had a beautiful time."
Corinne KELLER
"We have many good, fond and unforgettable memories of the PAT trip."
Vincent KOH & Jenny LEE
"I had a wonderful time and the VAT Intense Trekking Trip trip was everything I had hoped for. Challenging (and it really is intensive trekking) but Debbie and I were very fortunate to have Gaby as our guide for the full three week period. Not only she is a terrific person, but she provided excellent interpretation - we learned a lot about flowers and birds - which were of great interest to me and to Debbie (respectively!). And we learned a lot about Argentina and Chile. What we both enjoyed was going a bit off the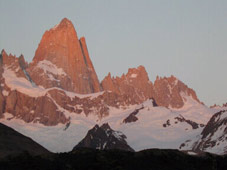 beaten track -with the trip to the Rio Tunel Valley at Fitz Roy area in Chalten and the stay at the Refugio Los Cuernos in Paine- and other visits at the end of the trek. Thanks again Fernando for a great experience in Patagonia"
Elizabeth RUDDICK & Debbie GILL
"Fernando, I just wanted to say "Thank You" for making our trip to Patagonia a huge success. Constance and I thoroughly enjoyed the trip, and appreciated all the work you put in to making our vacation a success. I look forward to going back to Patagonia someday, it was beautiful. What a great vacation! "
Lee PLUMMER
"We just came back from a wonderful FGP trip in Patagonia with Patagonia Adventure Trip.
Alan LEE & Joyee CHAU
"Fernando, just wanted to tell you how much I enjoyed my holiday in Argentina and how great the trip was, and I'm not sure I can decide what the best bit was! All the guides were great, I really enjoyed the walking and camping, and the weather on the whole was good! The National Parks - both Los Glaciares and Torres del Paine are amazing places, and I have seen many things that I'm likely to never see again! Back in Buenos Aires I was out having fun with some of the other people from the trip! I hope to return to Argentina one day! What a great place - thanks for all your organisation. It all ran like clockwork! "
Sarah MOLYNEUX
"Fernando, we would like to thank you for a wonderful trip. Apart from the slight problem with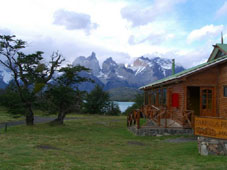 the Buenos Aires transfer at the end, (which Julieta sorted out very quickly and we arrived to Ezeiza airport with enough time), everything worked like clockwork. Our guides, Mariano, (Calafate and El Chalten), Jorge (Calafate and Chile) and Eduardo (Chile) were efficient, friendly and informative. They were especially good at arranging the pace of the hikes. The accommodation was also absolutely fine. We were very impressed with the people working in tourism in Argentina, not only the guides but also the girls giving commentaries on the buses, eg. to Perito Moreno and Tierra del Fuego National Park, and Maria Laura at the visitors centre in El Calafate. Thank you once again to all of them and to you for your friendliness. If you ever have a chance to come to Cape Town, please let us know."
Mike & Gill GROSE
"Thanks very much for all your help with the TFG trip. I really appreciate it. We had a very nice time."
Graham & Christy GERST
"Fernando, ya de vuelta en Costa Rica, quiero agradecerte por todos tus servicios. El viaje fue excelente, ni Michele ni yo nos imaginabamos la belleza de los lugares que conocimos, la Patagonia Argentina es excepcionalmente bella. Los guias Jorge, Nico y Pablo son gente muy especial y muy profesionales. Muchas gracias de nuevo y estamos a la orden para lo que necesiten. Saludos"
Mike FERRIS KEITH & Michele FERRIS DOBLES
"... we are back to work but fondly remember the wonderful time we had. We have shown our slides and pictures to many people. They are all awe struck. Both my wife and I think what a wonderful group we had. Keep in touch! "
Ashok BOGHANI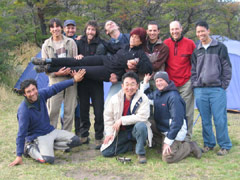 i
"Fernando, thank you so much for all your help in organizing this trip. I thought it was absolutely wonderful and will most definitely recommend Camino Abierto and Patagonia Adventure Trip to my friends. In particular, I thought Pepe was a wonderful guide. He had just the right balance between being informative and just being "one of the gang". Thank you again for all your help."
Alisha MORGAN
"Regrese a Mexico el domingo. El viaje fue fantastico... Mil gracias por todo tu apoyo. Quiero regresar con mis hijos, te contactare de nuevo ! Un muy cordial saludo."
Isabelle ROMIEU
"Patagonia was wonderful. I had a great time with everyone on the treks. The whole trip was very organized and hassle free. I didn't have to worry about anything. We had some very good days with the weather and some not so good days. So, I got to experience the real Patagonia and its' harsh climate. Julietta, Guido, and Chino were wonderful. I enjoyed spending time with them; they all love Patagonia very much and they know a lot about the natural history of the area. I also had a really good two days in Buenos Aires. It was quite a change from Patagonia. Now that I'm back at work in San Diego, I have to say that I miss Argentina very much. I'll look forward to my return some day."
Chris TIEMEYER
"Fernando, I just wanted to let you know that we had a great trip. Thanks for all of your help."
Ken FISCHL
"Fernando, my son Alec and I had a wonderful time on your Fitzroy trip in 2003. My photo of Fitzroy won "best of category" in a local photo competition a couple of weeks ago! "
Colin CAMPBELL


"I miss Patagonia everyday. I don't know if I can tell you enough what an AWESOME trip it was. Our guides were always very knowledgeable, friendly and welcoming. They really made an effort to get to know us and to make our trip as enjoyable as they could. Patagonia itself is absolutely beautiful and amazing. When people look at my pictures they tell me I should work for National Geographic. I tell them I really have no photographic talent, it is just really hard to take a bad picture of something so beautiful. The adventure-challenge level was just right for me. There was lots of hiking (up lots of mountains) but it was never too challenging or dangerous (there were no scenes from Cliffhanger). Everyday was perfect, hike for 8-12 hours, go back to the tent, drink some wine, eat some excellent food (the cooks were awesome!) and go to bed exhausted. My favorite day of the trip was when we did the Glacier Hike in Fitz Roy. It was the hardest day of hiking, but what a great experience. I loved that our guide for that trip did not speak one

word of English, but somehow communicated all the necessary things. There was another guide with us who was there for the whole trip who did speak English so he helped interpret. None of us fell in a crevice so that was good. I do have to say I was in quite a bit of pain from kicking myself with the crampon so many times. I think we were all in agreement that they need to change the name from "Holiday on Ice" to something a little more adventurous. Holiday on Ice sounds like a figure skating contest. We met so many nice people while we were there, unfortunately I haven't kept in touch with all of them. When we were at your house we talked about how people can come from completely different backgrounds and yet when you get to know them, you find that you are actually very similar. Fernando, I just wanted to say thanks for all of your efforts in making our trip so memorable."
Kate BRAUN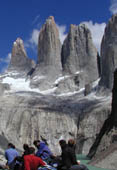 "Fernando, Beth and I wanted to thank you and Camino Abierto for the great vacation we just had in Argentina and Chile. We usually prefer to travel on our own, but for this trip we chose to take a guided tour because of our unfamiliarity with the area, and we were not disappointed. The guides were excellent, our fellow travelers were an interesting and congenial group from the far corners of the world, and the organization took care of all the details, leaving us free to enjoy the spectacular trekking. I hope we can return to Argentina for another such trip in the not too distant future."
Stephen SLATIN
"We loved the trip - the hikes were beautiful, each in different ways. The camping was great - the sites, the beauty, some of the patagonian winds and the people (several of whom I am still in contact with). The staff was always helpful and warm and friendly and knowledgeable. One needs only to want to travel, love the outdoors, and he/she won't be disappointed!"
Cathy SCHAFFER
"Fernando, gracias por todo, estuvo genial. "
Montse TAULINA

"Patagonia Adventure Trip was an incredible experience. The company was very flexible to work with and did a tremendous job tailoring our trip to be the experience we wanted. The guides were all excellent and the scenery was spectacular. My friend Keith really enjoyed all the beautiful Argentine women that were also on the trip. And my friends Kate and Ellen more than enjoyed the scenery of the good looking guides leading them up the mountains."
Susan WEIGEL
"Fernando, I'm sure we will all get around to thanking you. It was a wonderful trip, starting with the guides, interesting people all, who loved what they were doing, continuing with a robust group of trekkers well traveled and equipped to enjoy themselves, good food, good wine, good sleep from good exhaustion, and ending with the outstanding Patagonian weather. Just let's say this trip was perfect for me, and if I was foolish enough to have any particular expectations, this vacation handily exceeded them."
Sthephen BOWLES
"Fernando, thanks for all your help. All the guides were very good. Scenery was beautiful and the drivers were excellent. Thanks again. "
Elena CAPSUTO

"In February 2001 I spent 8 days in the Torres del Paine park with 15 other people camping and trekking with Oscar Pandolfi as our guide. I often think of the trip because of the shear beauty of the area, the great variability of the weather and the diversity of the scenery. We hiked in valleys, over rock falls and up to a huge glacier with surprisingly blue icebergs calving off of it. Each day was a new adventure. I attribute much of the success of the trip to our guide, Oscar, who was very knowledgeable about the fauna and flora of the area and who made sure that we were well provided for and enjoyed ourselves as a group during meals and on the trail. I highly recommend a trip to Patagonia for anyone who would like a unique trekking experience."
John FINSTON
"The Patagonia trip was a great trip!!! I enjoyed all aspects of the trip. Words and photographs are inadequate to describe Patagonia. Patagonia is a place to be experienced. I feel privileged to have had the chance to experience it with you, as our guide, and the rest of our group. I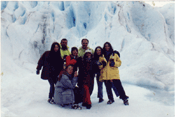 particularly appreciated your knowledge of the local flora and await the publishing of your book. I appreciated the patience, humor, and expertise that you demonstrated. As well, I appreciated all the hard work that you and the boys (don't tell Marianne that I used that word) did for us. I appreciated the diversity of our group. I enjoyed getting to meet everyone. John and I are going to go up Mt. Whitney in October.

I thought the amount of hiking that we did was just right. It wasn't too short and it wasn't too long. It was nice to come to the refreshment tent after a day's hike and have a nice, cold Pisco Sour. The scenery was just amazing. And your ability to hold off the rain was incredible. All in all, I thought it was a very, very special trip."
Mike Kent LEE
"I had a marvelous time. The weather cooperated (thank goodness), and we had several wonderful days of hiking. He structured the trip so that all people could hike at their own pace, and not feel left behind, or could ahead and have fun at their own pace. It was great to know that your pace, for that day, could always be accomodated. In addition, it was wonderful to come home to meals that we all enjoyed. I had a super time, and would definitely recommend this trip to a friend!"
Lea HALLERT
[ Top ]
---
What we say about us.

What is Patagonia Adventure Trip?
Patagonia Adventure Trip is an Adventure Travel Agency and Tour Operator who with the name of Camino Abierto stands for the last 20 years as one of the most important operators of adventure travel in Argentina.

A young and growing company, for the last fourteen years has guided over 800 groups from different parts around the world that today are not only satisfied customers but also friends.

It is also a commercial undertaking backed by exceptional natural landscapes and a professional staff that meet international expectations for adventure travel.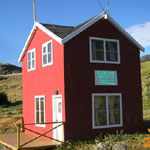 A highly professional team.
Patagonia Adventure Trip, as a travel and tour company, operate through its Commercialization and Coordination head-office in Buenos Aires, Argentina, as well as a receptive office located in El Chaltén, Province of Santa Cruz, inside the Los Glaciares National Park.

The services offered meet the highest expectations where quality is concerned, as regards staff, transport, meals, and information, as well as adventure equipment (full

camp with double tents, sleeping bags, insulating mat, dining tent with camping tables and tools, and kitchen gear). But most importantly, services ensure maximum safety and attention to even the smallest details. We are committed to give you outdoor travel with comfort.

How does Patagonia Adventure Trip satisfy your needs?
By offering:

• An excellent staff of mountain guides accredited by AAGM and authorized by the National Park Agency.

• Dedication and cordiality in traditional or adventure services, both for individuals or groups.



• A wide range of activities: from horseback riding to overland travel, from boat tours to whitewater rafting, from scientific treks to photo safaris; from day treks for family groups to expeditions to the continental ice field for tireless adventurers.

• The opportunity to customize activities exclusively for you or your group.

• Unblemished reputation acquired through years of service and direct contact with local and foreign tourists.

Patagonia Adventure Trip is at your service to reach your satisfaction.
[ Top ]
---
What they say about us.

Press & Forum Reviews



Lonely Planet Thorn Tree Forum
Published in 2010 by Angela GOH




Hiking on a Glacier in Patagonia
Published on August 19, 2001 by Clifford KRAUSS

Patagonia: Lodging and Dining Information.
Published on August 19, 2001 by Clifford KRAUSS
As you can see, Clifford Krauss mentioned Camino Abierto. Patagonia Adventure Trip is the company that offers through the Internet the outdoor tours done by Camino Abierto, who sells the same trips to travel agencies all over the world. In other words, Camino Abierto is "The Factory" and Patagonia Adventure Trip is "The Internet Outlet".
[ Top ]