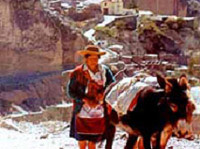 In this amazing tour of Discovery you will travel through the North of Argentina and Patagonia, combining beautiful landscapes with the possibility of enjoying the culture and customs of its inhabitants. Hiking at places such as the Quebrada de las Señoritas, the community of the Hornaditas, and the Quebrada de Sapagua in the North East of Argentina, will allow us to have a much more intimate and complete look at the region. We finalize this amazing trip hiking in Patagonia by going through the Los Glaciares National Park, Mt. Fitz Roy & Cerro Torre and the Perito Moreno glacier during the winter season.
This is a regular group activity but with a minimum of 2 travelers.

Departures 2009:


15 days - 14 nights

Season: April to October

Begins: Saturdays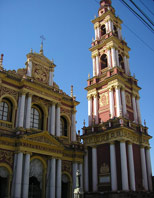 Starts at: Salta Airport (SLA).
Ends at: El Calafate Airport (FTE).

Itinerary
Day 1: Salta Airport - City of Salta
We welcome you at the Airport and transfer you to your accommodation in Salta. We will have the rest of the day to enjoy this nice colonial town full of traditions and good empanadas.
Lodging at Hosteria Double or Single Room
Included meals: none

Day 2: San Antonio de los Cobres - Salinas Grandes - Tilcara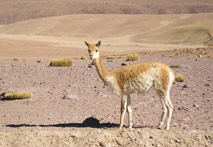 We depart early on our way to Campo Quijano, going through the Quebrada Del Toro, and the finally arriving to the pre Hispanic city of Rosa de Tastil with its legendary ruins. Our trip continues to San Antonio de los Cobres, a typical town located at 4000 meters altitude. Later, through the Paso de Jama we will be able to appreciate the "Salinas Grandes"; then descending over the path of the Lipan, we will make a stop at the town of Purmamarca and its famous Mount of 'Los Siete Colores'. Later we arrive to our lodge at the picturesque town of Tilcara.
Lodging at Hosteria Double or Single Room.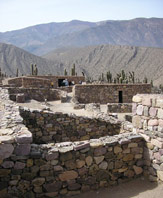 Included meals: breakfast (B)

Day 3: Devil's Throat - Tilcara
We will have the morning free to walk and discover the town and its unique places such as: la Plaza Grande, la Plaza Chica, the town Church and the Pucará de Tilcara, an important milestone in the Quebrada de Humahuaca. In the afternoon we will do a small trek to the devil's throat, walking along the old Kollas paths and watching the amazing view. After 3 or 4 hours we finally go back to Tilcara.
Lodging at Hosteria Double or Single Room.
Included meals: breakfast (B)

Day 4: Tilcara – Iruya - Humahuaca
Early in the morning we travel out of Jujuy towards the North in a local bus and go to a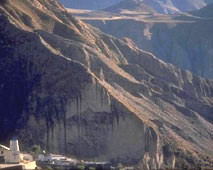 picturesque village located right in between the mountains, Iruya, just in the north of Salta. From it we can have a special view since its right on the end of the valley. We will have enough time to walk around the town, discovering its beautiful cobbled streets and its typical chapel. After enjoying the town we return back to the Quebrada to spend the night at Humahuaca.
Lodging at Hosteria Double or Single Room.
Included meals: breakfast (B) and box lunch (BL)

Day 5: Uquia - Quebrada de las Señoritas
Alter breakfast we leave Humahuaca by bus and after 10 km we arrive to the small town of Uquía. Once there we visit the church of "San Francisco de Paula" with its altar laminated in gold by the Jesuits in 1691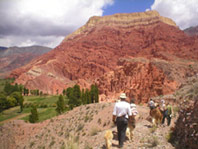 - year in which it was built - and adorned with the pictures of the 'arcabuceros angels' brought from Cuzco. Then we do a small trek to La Quebrada de las Señoritas or Yacoraite. The intense red color makes of it a shocking place; also because it's known for its paleontological deposit where fossils of the last great mammals that inhabited the Earth have been found, like milodontes and gigantic perezosos. Back in Uquía we visit a place where vicuñas are raised and an old hydraulic mill. At the end of the day we go back to Humahuaca.
Lodging at Hosteria Double or Single Room.
Included meals: breakfast (B) and box lunch (BL)

Day 6: Pueblo de Santa Ana - Yunga viewpoints
We depart early to the view point of the cloudy forest with our 4 x 4 van until we reach the 4400 meters, lowest point between the mountains of the Zenta. From there we descent to the small village of Santa Ana, last town before the jungle region of Yungas. After lunch we take a small trek through the area until we reach the Abra, natural balcony to the subtropical forest of the Yungas. Finally, we go back to our lodge in Humahuaca. During this night we will enjoy the northern ''Peñas''.
Lodging at Hosteria Double or Single Room.
Included meals: breakfast (B) and box lunch (BL)

Day 7: Quebrada de Sapagua - Hornaditas Community
We travel in our mini bus from Humahuaca to the Quebrada de Sapagua, where we will take a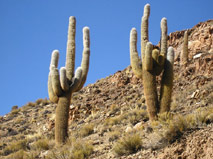 walk around the area. For there we continue to the small community of Hornaditas, where we will be able to share the life experience of the natural inhabitants of the area, who will open the door of their homes. Finally we go back to the city of Salta.
Lodging at Hosteria Double or Single Room.
Included meals: breakfast (B) and box lunch (BL)

Day 8: Salta – Salta Airport
After breakfast we are transferred to the Salta airport where we catch our flight to Buenos Aires in order to take the combination flight to El Calafate. Upon arrival we welcome you at El Calafate airport and transfer you to town. Check in at your lodge and spare time to visit this picturesque village.
Lodging at Hosteria or Inn, double or single Room with private bathroom
Included meals : breakfast (B)

Day 9: El Calafate - El Chalten -
After breakfast we travel by bus to El Chalten, a little and colorful town next to Mount Fitz Roy. To arrive to El Chalten we will cross cross 220 km through the Patagonia steppe and around lakes Argentina and Viedma, with a stop over on route to enjoy a coffee and homemade cakes. Approaching town we will have spectacular views of the mountains and of Glacier Viedma. In the afternoon, we will have time to visit town and get used to winter conditions.
Lodging at Hosteria double or single Room with private bathroom
Included meals: breakfast (B) and dinner (D)


Day 10: El Chalten - Fitz Roy trail
After breakfast we go hiking to the Fitz Roy trail. This trail starts on the north side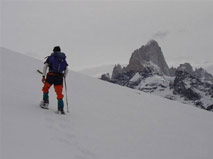 of the town. A gentle slope leads us to the first viewpoint over the River de las Vueltas valley, and we hike on to Laguna Capri and the first sights of Mt. Fitz Roy. Laguna Capri should be frozen by this time of the year, giving us the chance to get a unique picture of the frozen lagoon with Mt. Fitz Roy spires and glaciers in the background. From Capri we already have full views over Fitz Roy. If conditions are OK, we hike towards Rio Blanco, Fitz Roy base camp for climbers. Once at the base camp and depending on weather and terrain conditions those who want can continue trekking with snowshoes to Laguna de los Tres, a spectacular viewpoint for Mt. Fitz Roy massif, spires and glaciers. During this trek we climb 500 meters to get to the first viewpoints and 400 more meters if we climb to Laguna de los Tres. We carry snowshoes and we use them when necessary. Walking time depends on the conditions of terrain but please consider a full day hiking.
Lodging at Hosteria double or single Room with private bathroom
Included meals: breakfast (B), box lunch (BL) and dinner (D)

Day 11: El Chaltén - Cerro Torre trail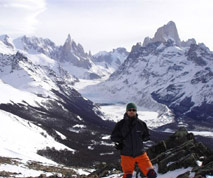 We trek today the Torre valley. This valley starts as a glacier valley in the Laguna Torre reaching town as a fluvial valley. Is shorter and with less gain of altitude than Mt. Fitz Roy trail. We hike to a first viewpoint of the glacier part of the valley after a first hour of walking. Depending on conditions, we will continue hiking to reach the lagoon, natural viewpoint for the group of ice-mushroom-covered spires of Cerro Torre massif. The lagoon should be frozen and we can cross it up to the front of Glacier Grande. Its blue colour and dimensions are breathtaking. Weather, conditions and time permitting we can try to make some basic ice climbing in the frozen waterfalls which hang in the sides of the lagoon. We hike back to El Chaltén in late afternoon.
Lodging at Hosteria double or single Room with private bathroom
Included meals: breakfast (B), box lunch (BL) and dinner (D)

Day 12: El Chaltén - El Calafate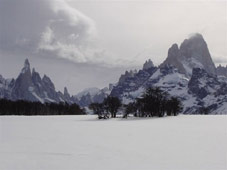 Morning at leisure to rest or to take different optional alternatives that the place offers: a walk to Cerro Pliegue Tumbado with beautiful sightseeing points over Mt. Fitz Roy, Cerro Torre and the glacier valley in between. Or to visit estancia Madsen (home of the first european immigrant that settled in the valley) or the Chorrillo del Salto waterfall, that should be half frozen in this time of the year. In the afternoon we take our bus back to El Calafate where we will be transfered to our lodge.
Lodging at Hosteria double or single Room with private bathroom
Included meals: breakfast (B)

Day 13: El Calafate - Perito Moreno Glacier


We dedicate this day to one of the World's Natural Wonders: the Perito Moreno glacier. After breakfast we travel by bus, on a road that allows us to go through the folds left on the steppe by the glaciers, to the Magallanes peninsula where the southern entrance of Los Glaciares National Park is located. Its major attraction is the Perito Moreno Glacier which, because of unusually favorable local conditions, is one of the world's few advancing glaciers. This ice field-type glacier flows down from the Patagonia Icefield, a big ice surface that with its 22.000 square kilometres is the third largest glacier area in the world, after Antarctica (14 M sq km) and Greenland (1 M sq km). The Perito Moreno Glacier is the only one in the world that shows a closure and rupture process. Huge icebergs from the glacier wall collapse into the De los Tempanos Channel. The roar of the gigantic ice rocks falling and crashing into the waters of the channel is a unique experience. Our bus will lead us just in front of the Glacier, allowing us to walk and view the Glacier from different viewpoints. We return to El Calafate using a different route. We will drive 80 km (1 and a half hour) to get and then again to come back from the glacier across the steppe, watching a wide variety of birds.
Lodging at Hosteria double or single Room with private bathroom
Included meals: breakfast (B)

Day 14: El Calafate - Optional Boat Trip on Lake Argentino
This is a free day and you can choose some of the options that El Calafate can offer. The most advisable is to go sailing in the catamarans that make the trip to the glaciers which calve in the west arms of Lake Argentino. Among them are glaciers Upsala, Spegazzini and Onelli, Bolados and Agassiz glaciers in the area of Laguna Onelli. Also 4 wheel drive excursions and horseback riding is available at El Calafate.
Lodging at Hosteria double or single Room with private bathroom
Included meals: breakfast (B)

Day 15: El Calafate airport
After breakfast we transfer to El Calafate Airport where the hiking trip ends.
Included meals: breakfast (B)

Price: 1639 u$d (Hosteria - Double room)
2164 u$d (Hosteria - Single room)

Included services: Incoming services, 14 nights in Hostería double or single with breakfast, Bilingual guide (Spanish – English) during all the excursions, 13 breakfast(B), 6 box lunch (BL) and 3 dinners (D), excursions as detailed in the program, all transportation as shown in the itinerary combining private and regular buses, transfers from/to Salta & Calafate airports.

Not included services: international and domestic flights, airport taxes, transfers in Buenos Aires, nights in Buenos Aires, drinks, foods not detailed, optional excursions, medical covering, tips, services not detailed in the program. More information