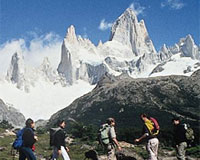 Come with us to travel inside the two most splendid Southern Patagonia National Parks, trekking at El Chalten, Mount Fitz Roy and Cerro Torre bases, visiting the Perito Moreno Glacier, camping and trekking in Torres del Paine National Park (Chile). In this adventure trekking trip you will walk along the most spectacular landscapes of Southern Patagonia, at El Chalten, El Calafate, and Torres del Paine (Chile).


Departures 2016/2017: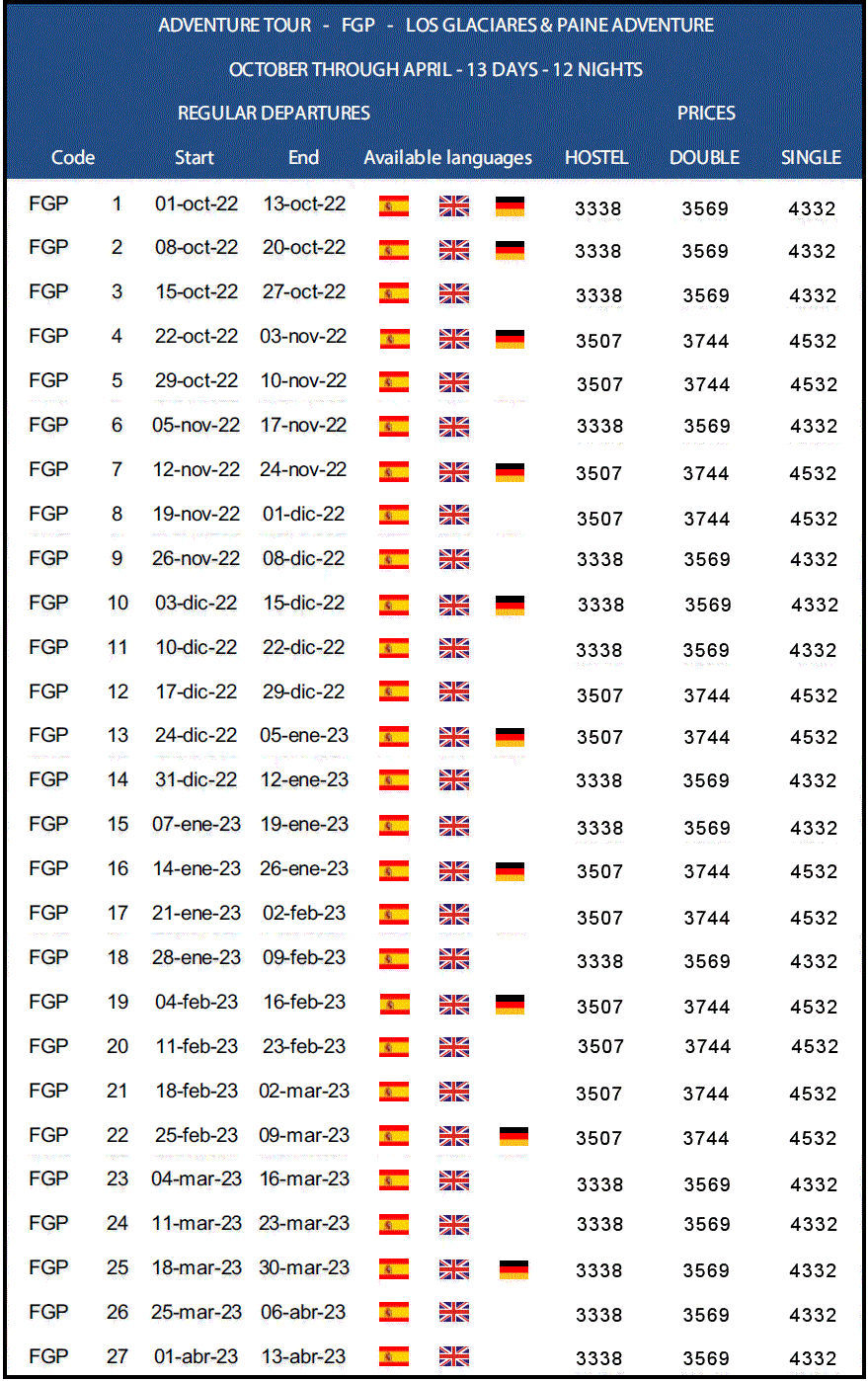 13 days - 12 nights

Season: October to April

Starts at: El Calafate Airport (FTE). The Meeting Point for the Group on Day 1 is 7 PM at El Calafate.

Ends at: El Calafate Airport (FTE).

Itinerary
Day 1: El Calafate Airport (FTE) - El Calafate
We receive you at El Calafate Airport from there you are transfered to your lodging at the town of El Calafate, where at 7 PM the group will meet by the first time. This is the moment when we have the guides introduction and we talk about all the details regarding the trekking we will make. You meet your guide and you enjoy the welcome dinner with your adventure partners while chating on the program details for tomorrow
Lodging at Hostel shared room & bathroom
Lodge option: Inn Double or Single Room with private bathroom
Included meals : dinner (D)

Day 2: Bus to El Chalten - Capri Lagoon - Poincenot
After breakfast we travel by bus to El Chalten, a little and colorful town next to Mount Fitz Roy. To arrive to El Chalten we will cross 220 km (part of gravel road) through the Patagonia steppe, stopping at half way, where a picturesque inn is located, to enjoy homemade cakes and hot coffee. Once in Chalten we meet fellow travellers coming from up north (Route 40). We prepare for the trekking, leaving part of our belongings secure at Chalten, and carrying only the necessary for these two nights where we will lodge at the campsites inside Los Glaciares National Park. We hike up a beautiful trail next to ¨Las Vueltas¨ river that will take us to the first panoramic views of the Mount Fitz Roy. From now on, we will be approaching to De los Patos Lagoon and then next to the Capri Lagoon. In approx. one more hour finally we will arrive to our camp at Poincenot. (3-4 hs approx.) The Camp has been previously mounted, featuring spacious 3 people dome tents, used in double or single base. Each tent has sleeping bags, inner sheet and insulating mattresses. The camp has a large dining tent with table, benches, dishes and kitchenware. The sanitary services are provided with chemical bathrooms or latrine -type. We leave our belongings in our tent and we enjoy an afternoon walk to the sightseeing points around.
Lodging at Poincenot Full Camp double or single tent (rural area - without showers).
Included meals: breakfast (B), box lunch (BL) and dinner (D)

Day 3: Mount Fitz Roy - De Los Tres Lagoon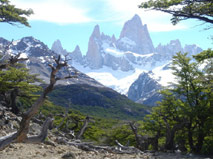 Trekking. Early in the morning and carrying only your coat and the photo camera we can try to match up the morning sunlight getting pink in Fitz Roy granite walls. You only need this to feel the trip is worthwhile. After breakfast, carrying only day personal items such as our polar & wind jacket, gloves, our camera, water bottle and the box lunch we provide, we overcome the "Chorrillo del Salto", always with the impressive needles of the glacier in front of us. The first 2 hours are mainly flat, through forest and open areas along Fitz Roy trail up to Rio Blanco, with diverse bird life, until reaching Fitz Roy base, climbers basecamp on the east side of the mountain. From here it is a 400 m/1300 ft climb to the De los Tres lagoon on a steep trail that takes us around one hour and a half at gentle pace. This walk is one of the highlights in Los Glaciares National Park: Laguna de los Tres, with its zephyr blue colour, lays at the foot of the Fitz Roy massif, offering the views of Mts. Poincenot, Fitz Roy and the other peaks surrounding them are splendid, their needles rise up vertically in front of us approx. 1500 m over the glaciers. Mt. Fitz Roy, with its 3405 mts above sea level, is considered the "King of Patagonia" and also considered one of the three most beautiful mountains on Earth (together with Alpamayo in Perú and K2 in the Karakoram). We return to Poincenot in late afternoon. (Total 5 - 6 Hs. approx.)
Lodging at Poincenot Full Camp double or single tent (rural area - without showers).
Included meals: breakfast (B), box lunch (BL) and dinner (D)

Day 4: Mount Torre - El Chalten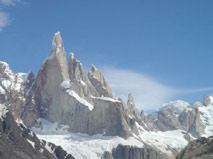 Trekking. Today we start one hour walking to the Lagoons Madre and Hija Valley and down to Fitz Roy river valley, where we meet Cerro Torre trail. The trail runs along beech forest, bogs and shrubland. From the camp, a short hike takes us to Laguna Torre, enclosed by morraines and with the Glacier Grande calving in its west side. It is usual to see icebergs pushed by the wind in the coast of the lagoon. The thin and elegant 3128 mts of Cerro Torre group and the Adela range in the background complete this spectacular view. In the evening we hike back to El Chalten along Cerro Torre trail. Walking time 3-4 Hs. to Cerro Torre plus 3-4 Hs. back to Chalten
Lodging at Hostel shared room & bathroom
Lodge option: Inn Double or Single Room with private bathroom
Included meals: breakfast (B) and box lunch (BL)

Day 5: El Chalten - Loma del Pliegue Tumbado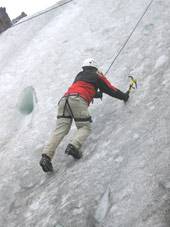 This 1500 mts mountain is located immediately south of Cerro Torre valley and offers some of the best views over the different group of mountains, glaciers and lakes that features the area. From the lower terraces to the summit, you can get spectacular views of Fitz Roy, Torre and the spectacular glacier valley in between both. From the summit the bonus is the sight of Paso del Viento and some of the mountains that stick out from the Patagonian Icefield. According to the group capacity, we choose the lower terraces or try the summit, a long but gentle climb in scree. The lower part of the mountain is covered by shrubland and forest. We are back in Chalten by late afternoon.
Lodging at Hostel shared room & bathroom
Lodge option: Inn Double or Single Room with private bathroom
Included meals: breakfast (B), box lunch (BL) and dinner (D)

Day 6: El Chalten - El Calafate
Free day. We recommend the Optional excursions offered in the town, such as Viedma Ice trek. Trekking on glacier, using crampons. This activity is physical demanding, but allow us to enjoy a trek on ice and a boat trip in Viedma Lake. Also, you can discover the town or other optional excursions with less physical effort. You can choose to explore the picturesque village of El Chalten, with the possibility of visiting The Climbers Chapel; or the estancia Madsen, home of one of the pioneering families in the area; or the Interpretive Center of National Parks. Or you can take optional excursions taking a bus to visit the area of Del Desierto Lake for a short hiking, that in spite of its name it's a beautiful beech forest surrounded lake, with hanging glaciers in its west side and it's located 45 Km out of town. Other options could be kayaking on Las Vueltas river or sailing on Viedma Lake. Around 5 PM we take the bus to El Calafate, the gateway to the huge glaciers inside the National Park, arriving there around 9 PM. Driving distance: 220 km.
Lodging at Hostel shared room & bathroom
Lodge option: Inn Double or Single Room with private bathroom
Included meals: breakfast (B)

Day 7: El Calafate - Perito Moreno Glacier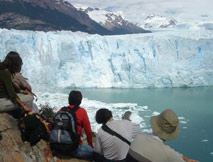 We dedicate this day to one of the World's Natural Wonders: the Perito Moreno glacier. After breakfast we travel by bus, on a road that allows us to go through the folds left on the steppe by the glaciers, to the Magallanes peninsula where the southern entrance of Los Glaciares National Park is located. Its major attraction is the Perito Moreno Glacier which, because of unusually favorable local conditions, is one of the world's few advancing glaciers. This ice field-type glacier flows down from the Patagonia Icefield, a big ice surface that with its 22.000 square kilometres is the third largest glacier area in the world, after Antarctica (14 M sq km) and Greenland (1 M sq km). The Perito Moreno Glacier is the only one in the world that shows a closure and rupture process. Huge icebergs from the glacier wall collapse into the De los Tempanos Channel. The roar of the gigantic ice rocks falling and crashing into the waters of the channel is a unique experience. Our bus will lead us just in front of the Glacier, allowing us to walk and view the Glacier from different viewpoints. We return to El Calafate using a different route. We will drive 80 km (1 and a half hour) to get and then again to come back from the glacier across the steppe, watching a wide variety of birds.
Lodging at Hostel shared room & bathroom
Lodge option: Inn Double or Single Room with private bathroom
Included meals: breakfast (B)

Day 8: El Calafate - Torres del Paine National Park
We depart early in the morning (around 7 AM) from El Calafate to Torres del Paine for a 6 Hs drive through the spectacular landscape of the Patagonia steppe following part of the legendary Route 40, to get around Sierra de los Baguales, an impressive range in between Calafate and Paine. Choiques and flamingos are very common in this area. Almost 4 hours from starting our journey, we will be at the border crossing between Chile and Argentina called Paso Cancha Carrera - Cerro Castillo. We continue until we reach the Torres del Paine National Park. UNESCO gave to this park the World Heritage status, due to its unique wildlife and magnificent scenery. During our entrance to the Torres del Paine National Park, we start to see the different mountains that feature the area: Paine Grande, the Horns, Admiral Nieto and the Towers. We enter the Park by Porteria Sarmiento. A rich wildlife: guanacos, lesser rheas, condors and all types of wetland, flowers and buzzard birds, will be available for our eyes and cameras. We will stop at viewpoints for short 1-2 Hs.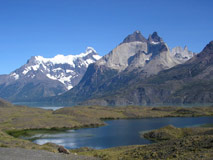 walks, to get familiar with the landscape, to finally reach our camp at the foot of Paine massif, after 6 hs of travel.
Lodging at Las Torres Full Camp double or single tent (with bathrooms/showers).
Included meals: breakfast (B), box lunch (BL) and dinner (D)

Day 9: Las Torres - Ascensio River Valley
We dedicate this day to one of the most spectacular and classical trekking in the park: the Torres Trail. Early in the morning we start walking towards the bridge over the Ascensio river, headtrail for the world famous Paine towers. We "warm up" hiking a steep one hour slope, ascending the slopes of the Almirante Nieto Mount, bordering the Ascencio river, to get inside the valley itself, a narrow "V" shape alpine valley coming from inside the Paine massif. A gentle downhill leads us to Chileno Refuge, a cozy and comfortable mountain lodge, which can be a good turnaround point for those not willing to make a full day hike. But we don't recommend it as the best is yet to come. From there the trail leads us through the beech forest walking in a gentle slope along the river side, in the middle of unforgettable landscapes, to Las Torres base camp. There the climbers wait good weather conditions to climb Las Torres. We take a final climb through the boulders of the moraine, it's one hour to reach the Las Towers viewpoint: an amazing natural amphitheater at the bottom of the vertical granite towers with a glacier-fed lagoon and the three towers rising vertically 1000 mts from the glacier and reaching 2800 meters height above sea level. The lack of breath will be either due to the climb or the sight. We go back to our camp on the same way we came. Walking time: 7 to 8 Hs.
Lodging at Las Torres Full Camp in double or single tent (with bathrooms/showers).
Included meals: breakfast (B), box lunch (BL) and dinner (D)

Day 10: Pehoe Lake crossing Navigation - Del Frances Valley
Early in the morning a 1 hr drive takes us to Port Pudeto to board the catamarán that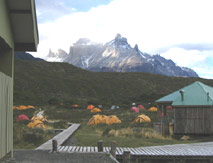 crosses lake Pehoe twice a day. We cross sailing 45 minutes the Pehoe Lake and arrive at the Pehoe Refuge area in the far side of the lake. We leave unnecessary items in our tents and walk from there until reaching Del Frances (French) Valley. It's a beautiful mountain valley descending from the middle of the massif towards the Nordenskjold Lake. Flanked by The Horns to the east and by the impressive Paine Grande (3050 meters /10006 ft) to the west. The trail skirts Paine Grande south slopes and lake Skottberg, to take us after 2-3 hs of continuous ups and downs, to the hanging bridge upon the French River. This breathtaking location is at the foot of both the 2700 mts south east face of Paine Grande (to the west) and the Horns, with its characteristic black sedimentary topping, to the east. We continue ascending the valley walking 1 hour further by Italian camp until we reach the upper viewpoints located in a natural amphitheater surrounded by some of the most wonderful needles and walls of the massif: Cuernos, Espada (Sword), Mascara (Mask), Hoja (Blade), Aleta de Tiburon (Shark Fin), Catedral (Cathedral), Fortaleza (Fortress) and Paine Grande. The forest and the suspended glaciers that cause continuous ice and snow fallings, give us a unique scenery to this walk. We descend the same trail and turn west rounding Skottberg Lake until we arrive to our Camp for this night at Pehoe Refuge area. Walking time for those who reach the upper viewpoints: 8 to 9 hs. For those reaching the lower viewpoints: 5 to 6 hs.
Lodging at Refugio Pehoe Full Camp in double or single tent (with bathrooms/showers).
Included meals: breakfast (B), box lunch (BL) and dinner (D)

Day 11: Grey Glacier Viewpoints
Another unforgettable day dedicated to the Grey Glacier, impressive glacier with 300 square kilometers of surface (115 square miles) and 25 kilometers long (16 miles). It overflows from the Patagonia Ice Field falling into Grey Lake. The Glacier produces enormous amount of blue icebergs that sail over the lake pushed by the wind towards the south, given the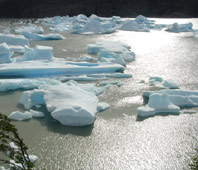 characteristic feature to this lake. Lake Grey trail leads from Pehoe Valley across ridges to reach Grey valley. The trail skirts the lake, going up and down the westerns slopes of Paine Grande, offering some of the most impressive sights of the Park, leading us to a wonderful viewpoint where we can appreciate the whole lake, the glacier and the mountains that emerge from the west of the Ice Field. From the high sections of the trail, many different viewpoints allow us to see the south end of the lake where the blue icebergs gather, the mountains rising far in the distance above glaciers Grey and Tyndall, and of course lake and glacier Grey. Two more hours walking and we arrive to another viewpoint just in front of the Glacier. All the trek is done between Andean bushes and lengas forest, at the shadow of the ice blocks that drape the Paine Grande Mount.We come back along the same trail, crossing bogs, shrublands and forest. At the end of the day we sail back again the Pehoe Lake to the south shore and then we go to our accommodation in Puerto Natales, a picturesque fishermen town located in the shores of the Ultima Esperanza (Last Hope) fjord. We walk this day about 8 hours. To the half way viewpoints, round way from our camp, 4-5 hours.
Lodging at Hostel shared room & bathroom
Lodge option: Inn Double or Single Room with private bathroom.
Included meals: breakfast (B) and box lunch (BL)

Day 12: Puerto Natales – El Calafate
In the morning, as our fellow travellers are going south in a long drive today, our guide will say us goodbye and we depart from Puerto Natales by regular bus crossing the border to return to Argentina. We arrive to El Calafate where another person will be waiting for us and transfer us to the Hostel. The rest of the day is at your own to visit the town.
Lodging at Hostel shared room & bathroom
Lodge option: Inn Double or Single Room with private bathroom
Included meals: breakfast (B)

Day 13: El Calafate - El Calafate Airport
After breakfast we transfer to El Calafate Airport. End of the Adventure Trip.
Included meals: breakfast (B)

Price (u$d):
Lodging type

Departure Month

[ Oct - Feb - Mar - Apr ]

[ Nov - Dec - Jan ]

Hostel, shared

2888

3044

Inn Double

3150

3307

Inn Single

3819

3975



Included services:

Bilingual tour leader during all the trip,trekking/mountain guide while on trek, 7 nights hostel or inn and 5 nights full camping (igloo tents double base with sleeping bags, interior sheets and insulating mattresses, dinner tents with table, benches and kitchenware, cooking tent), 12 breakfast (B), 8 box lunch (BL) and 8 dinners (D), all transfers in Patagonia and trekking activities, Perito Moreno Glacier Excursion and Pehoe Lake Navigation. More information



Not included services: international and domestic flights, airport taxes, transfers in Buenos Aires, nights in Buenos Aires, drinks, foods not detailed, tickets entrance to 2 National Parks (5/10 u$d ea.), Lago Argentino Navigation, medical covering, tips, optional excursion Holiday On Ice, services not detailed in the program. More information