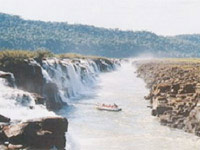 The Iguazu Falls with the panoramic view from Brazil and the breathtaking "Garganta Del Diablo" (Devil's Throat) fall on Argentina is just the beginning of this unforgettable eco-trip in one of the last South America southern jungles. The adventure tour continues at the Provincial Park "Saltos del Moconá" with falls that are parallel to the river direction and ends at the Ibera Swamps in Corrientes, a privileged place for bird watching and a great wildlife environment.

Departures 2012/2013: every day



8 days - 7 nights

Season: All year

Begins: every day



Starts at: Iguazu Airport (IGR).

Ends at: Posadas Airport (PSS).

Itinerary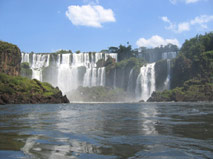 Day 1: Airport - Iguazú Falls from Brazil
We welcome you at the airport to transfer you to the hotel. By 3 pm we transfer to Iguazú National Park and visit the Brazilian side of the Falls. Once we get to the Visitors Centre, we board a Panoramic Bus and get across the jungle to the Falls. From there we walk, getting magnificent views of the Argentinean Falls and the Isle of San Martin. We end up in Brazilian's Floriano Fall.
Lodging at Hotel Double or Single Room
Included meals: dinner (D)

Day 2: Iguazu Falls from Argentina - Devil's Throat
We will leave Port Iguazú towards the Argentine side of the waterfalls by the picturesque route 12 through Iguazu National Park. When arriving to the Visitors centre, we will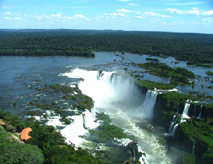 get on the ecological Train, which will take us to the 'Throat' Station. Then we will walk 1200 meters through the hanging steel sidewalk among isles and exuberant vegetation in order to observe the famous "Devil's Throat", an impressive waterfall of 84 meters surrounded by a permanent fog that forms a perfect rainbow. Afterwards, in the inferior level from the spot in front of San Martin Island, we can (optionally) get in a big zodiac boat to sail down the river by the inferior course of the Iguazú River until we get to the Macuco port. We will continue with a long walk hiking through the trails of the Forest, where 4 wheel drive vehicles will transferred us along the Yacaratiá trail, with lots of fauna and flora to observe. Finally we return our way back to the hotel.
Lodging at Hotel Double or Single Room.
Included meals: breakfast (B) and dinner (D)

Day 3: Puerto Iguazú - Moconá
After the breakfast, we will be transfer from Iguazú to our new lodgement in the Saltos del Moconá area. During the afternoon, we will have time to discover the place.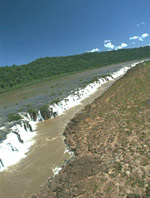 Lodging at Hotel Double or Single Room.
Included meals: breakfast (B), lunch (L) and dinner (D)

Day 4: Saltos del Moconá Provincial Park
After the breakfast, we will visit the "Saltos del Moconá Provincial Park". First we will have a little walk and then we will cross the park by motorboat. Moconá is a geological fault where the rivers Yabotí, Pepirí Guazú, Uruguay, Serapio and Calixto meet. Actually, The "Saltos" (falls) are a 3 kilometres long canyon with waterfalls that falls parallel to the river bed, and may reach the 25metres high and 115 metres deep, depending on the water's volume. During the afternoon, we can appreciate the local flora and fauna of this amazing Provincial Park.
Lodging at Hotel Double or Single Room.
Included meals: breakfast (B), lunch (L) and dinner (D)

Day 5: Mocona - Posadas
Morning free at your own. After lunch, we transfer to Posadas and lodge there.
Lodging at Hosteria Double or Single Room.
Included meals: breakfast (B)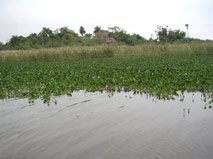 Day 6: Posadas –Ibera Swamps
From Posadas, we will go on a short crossing around the Iberá Swamps area, after lunch, we will board a motorboat to travel across its wetlands starting at Corrientes Channel, taking little walks to appreciate the local flora and fauna such as Caymans, Carpinchos, Lobitos de Río, Marsh breeds and the 350 bird species among others. At dusk, we will visit the Interpretative Centre and we will return to our accommodation to have dinner.
Lodging at Hosteria Double or Single Room.
Included meals: breakfast (B), box lunch (BL) and dinner (D)

Day 7: Esteros de Camba Trapó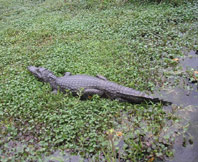 After breakfast we will have an activity that have both natural and cultural interests, the visit of the Cambá Trapó Swamp, this is a transition area between the "Paranaense Jungle" and the "Oriental Chaco" with its picturesque and flooded "Caranday Palmar". This place is a refuge for many nocturnal animals as the tatú negro, zorrino, aguará pope and the local fox, among others.
Lodging at Hotel Double or Single Room.
Included meals: breakfast (B), lunch (L) and dinner (D)

Day 8: Iberá Lagoon - Posadas Airport
After the breakfast, we will have a horse ride to the south of the Iberá Lagoon to finally return to enjoy the last hours in Misiones. During the afternoon, transfer to the Posadas airport where our tour ends.
Included meals: breakfast (B)

Price: 3119 u$d (Hosteria - Double room)
5288 u$d (Hosteria - Single room)

Included services: Incoming services, 7 nights in Hostería/Hotel double or single with breakfast, Bilingual guide (Spanish – English) during all the excursions, 7 breakfast(B), 3 lunches (L), 1 box lunch (BL) and 6 dinners (D), all transportation as shown in the itinerary combining private and regular buses, transfers from/to Iguazu & Posadas airports, Excursion Camba Trapó Swamps, Full day excursion to Saltos del Moconá Provincial Park with motorboat activity, Motorboat activity at the Iberá Swamps, Horseback riding at Iberá Lagoon, Iguazú Falls visit from Argentina & Brazil.

Not included services: international and domestic flights, airport taxes, transfers in Buenos Aires, nights in Buenos Aires, drinks, foods not detailed, optional excursions, medical covering, tips, services not detailed in the program. More information