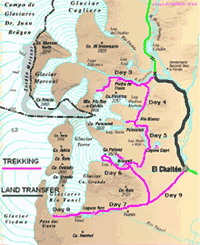 The Fitz Roy Wild Trails is a very popular program for those active travelers coming to Patagonia who enjoy an intense trek but are not interested in climbing or risky activities and do not need technical skills. We trek across the northern part of Los Glaciares National Park, around the Fitz Roy area near El Chalten, and as an impressive plus, we trek one day over the Torre Glacier. We use campsites to stay inside Los Glaciares National Park, where we transport all the necessary equipment. You should be in good physical condition to trek seven daily hours on average at gentle pace and enjoy campsites. We do not go above 1500 meters/4920 ft. In fact it's one of the strong points of this trip, you can trek wonderful mountains trails without have to reach high altitude. Nevertheless, the strong winds which from time to time are part of Patagonia landscape during the summer months can make walking much more strenuous.
This is a regular group trekking activity but with a minimum of 3 passengers.

Departures 2016/2017:



12 days - 11 nights

Season: October to April

Starts at: El Calafate Airport (FTE). The Meeting Point for the Group on Day 1 is 7 PM at El Calafate.

Ends at: El Calafate Airport (FTE).

Itinerary
Day 1: El Calafate Airport – El Calafate
We receive you at El Calafate Airport, and transfer to El Calafate town, where at 7 PM the group will have a meeting at Hostel del Glaciar Pioneros at Pioneros St. 251. You will meet our Guide, talk about the details of our trip and enjoy your welcome dinner together with your travel partners.
Lodging at Hostel Room with private bathroom
Included meals: dinner (D)

Day 2: El Calafate - El Chalten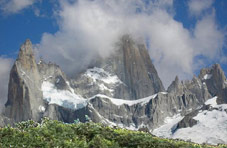 After breakfast we will transfer to El Chalten, a little and colorful town next to Mount Fitz Roy. We cross 220 km (190 km of gravel road) through the patagonia steppe and we stop half way at a picturesque inn to enjoy his homemade cakes and hot coffee. While we approach, we get spectacular views of Viedma lake and glacier, and Mt. Fitz Roy and Cerro Torre groups. El Chalten is located on the edge of Los Glaciares National Park.
Lodging at Hostel Room with shared bathroom
Included meals : breakfast (B)

Day 3: Piedra del Fraile
Today we start our trek in the Los Glaciares National Park. A short transfer takes us to the Rio Electrico, where we start our trek through a beech forest to Piedra del Fraile. Leaving our packs here we continue trekking the Rio Electrico Valley for 2 hours and then ascending 1 hour to see the Mount Fitz Roy (3441 metres/11.289 ft) north face and Pollone glacier and to the viewpoints of the impressive Marconi Glacier, entrance to the Patagonian Ice field. From there we return to Piedra del Fraile Full Camp.
Lodging at Piedra del Fraile Full Camp in double tent (rural area - without showers)
Included meals : breakfast (B), box lunch (BL) and dinner (D)

Day 4: Rio Blanco, De los Tres Lagoon
Today we follow the Rio Blanco valley hiking up-river to the lake of Piedras Blancas where we have an impressive view of the hanging Piedras Blancas Glacier. Further on, we get to Rio Blanco (Fitz Roy base camp for climbers in the east walls of the group) and in the afternoon, having left our packs at the campsite, we ascend the frontal moraine to De Los Tres Lagoon for a stunning view of Mount Fitz Roy, probably one of the most spectacular locations in the National Park. We hike down to Rio Blanco and to Laguna Capri..
Lodging at Laguna Capri Full Camp in double tent (rural area - without showers)
Included meals : breakfast (B), box lunch (BL) and dinner (D)

Day 5: Madre e Hija Lagoon, Mount Torre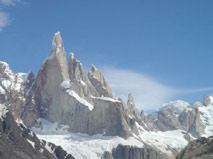 This morning we start trekking around Laguna Capri to get to the shore of Laguna Madre and Lagoon Hija and down to Fitz Roy river valley, where we meet Cerro Torre trail and we get to Cerro Torre Full Camp. The trail runs along beech forest, bogs and shrub land. From the camp, a short hike takes us to Laguna Torre, enclosed by moraines and with the Glacier Grande calving in its west side. It is usual to see icebergs pushed by the wind in the coast of the lagoon. The thin and elegant 3128 mts (10.262 ft) of Cerro Torre group and the Adela range in the background complete this spectacular view. Mt. Torre with its needle shaped peak is a major challenge for best climbers.
Lodging at Cerro Torre Full Camp in double tent (rural area - without showers).
Included meals: breakfast (B), box lunch (BL) and dinner (D)

Day 6: Glacier Trek on the Torre Glacier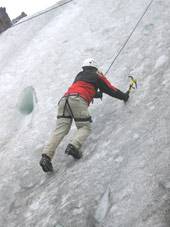 Today, if the weather permits, we perform an impressive, exceptional activity. You will walk and climb on the legendary Mount Torre Glacier, with its granite walls just behind you. All necessary equipment (rope, harness, crampons, ice-axes) and expert guidance are provided. In order to access the glacier we have to make a Tyrolean crossing of the Fitz Roy river. This is done by clipping a little seat onto a fixed rope over the river and pulling yourself, or being pulled, across. We walk on the moraine around the lagoon and then down to the glacier visiting crevices, ice caves and holes and all the interesting places that a glacier can show. The bonus is the close up views of Cerro Torre group spires. We hike back to our camp in the afternoon.
Lodging at Cerro Torre Full Camp in double tent (rural area - without showers).
Included meals: breakfast (B), box lunch (BL) and dinner (D)

Day 7: Pliegue Tumbado, Toro Lagoon
Today we cross the Fitz Roy river using once again the Tyrolean traverse but now to hike up to Paso de las Agachonas, a 1300 mts pass on top of Pliegue Tumbado, which divides the Cerro Torre valley from the River Tunel valley. We trek through the forest, then we climb 700 meters (2300 ft) to the ridge which connects the summits of the Pliegue Tumbado. The landscape of the Fitzroy group and the Rio Tunel Valley is breathtaking. From the pass we hike down to Laguna Toro.
Lodging at Laguna Toro Full Camp in double tent (rural area - without showers).
Included meals: breakfast (B), box lunch (BL) and dinner (D)

Day 8: Paso del Viento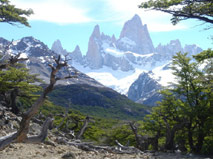 A full day hike from Laguna Toro to Paso del Viento (Pass of the Wind, 1550 meters/5085 ft) and back, across morraines, glacier and alpine meadows, with the fabulous Patagonia Ice Field view and the Mariano Moreno range inside it and many other mountains rarely seen by men. We get views of the Tunel Glacier and the river with the same name. The hike is demanding, done with a day pack, but a hugely rewarding trekking day. We trek approx. 9 Hs. round trip from Laguna Toro, to climb 800 mts from our camp to the Pass until return to the forest where we camp.
Lodging at Laguna Toro Full Camp in double tent (rural area - without showers).
Included meals: breakfast (B), box lunch (BL) and dinner (D)

Day 9: Tunel river, El Chalten
We return trekking down to El Chalten, hiking on the Tunel river east shore following a trail along the Tunel river valley and up Pliegue Tumbado. On the ridge, we get again splendid views of most of the mountains and lakes of the area. We descend through forest in a gentle downhill, enjoying the panorama. We arrive to El Chalten in the evening.
Lodging at Hostel shared room & bathroom
Included meals: breakfast (B) and box lunch (BL)

Day 10: El Chalten – El Calafate
We stay freely this day at El Chalten, resting and enjoying the small town, until we travel by bus to El Calafate around 5 PM. It's a 4 hour bus transfer and we arrive to have our dinner and to lodge at our hostel.
Lodging at Hostel room with private bathroom
Included meals: breakfast (B)

Day 11: El Calafate – Perito Moreno Glacier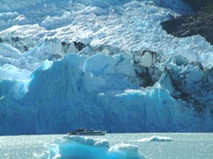 We dedicate this day to one of the World's Natural Wonders: the Perito Moreno glacier. After breakfast we travel by bus, on a road that allows us to go through the folds left on the steppe by the glaciers, to the Magallanes peninsula where the southern entrance of Los Glaciares National Park is located. Its major attraction is the Perito Moreno Glacier which, because of unusually favorable local conditions, is one of the world's few advancing glaciers. This ice field-type glacier flows down from the Patagonia Icefield, a big ice surface that with its 22.000 square kilometres is the third largest glacier area in the world, after Antarctica (14 M sq km) and Greenland (1 M sq km). The Perito Moreno Glacier is the only one in the world that shows a closure and rupture process. Huge icebergs from the glacier wall collapse into the De los Tempanos Channel. The roar of the gigantic ice rocks falling and crashing into the waters of the channel is a unique experience. Our bus will lead us just in front of the Glacier, allowing us to walk and view the Glacier from different viewpoints. We return to El Calafate using a different route. We will drive 80 km (1 and a half hour) to get and then again to come back from the glacier across the steppe, watching a wide variety of birds.
Lodging at Hostel room with private bathroom
Included meals: breakfast (B)

Day 12: El Calafate - El Calafate Airport
After breakfast we transfer to El Calafate Airport where we end our services.
Included meals: breakfast (B)


Price (u$d):
Lodging type

Departure Month

[ Oct - Feb - Mar - Apr ]

[ Nov - Dec - Jan ]

Hostel, shared

3133

3263

Included services: Bilingual (Spanish – English) tour leader, trekking/mountain guide, 3 nights hostel with private bathroom, 2 nights hostel with shared bathroom, and 6 nights full camping (igloo tents double base, dinner tents with table, benches and kitchenware, cooking tent), 11 breakfast (B), 7 box lunch (BL) and 7 dinners (D), all transfers in Patagonia and trekking activities, during the trip we combine private and regular buses, Perito Moreno Glacier Excursion. More information

Not included services: international and domestic flights, airport taxes, transfers in Buenos Aires, nights in Buenos Aires, drinks, foods not detailed, tickets entrance to 1 National Park (5/10 u$d ea.), Lago Argentino Navigation, medical covering, tips, services not detailed in the program. More information

List of suggested personal equipment:
• Backpack, 60 /70 lts
• Sleeping bag, feathers or synthetic, for -10ºC
• Sleeping mattress (therm-a-rest type) or Insulating mattress (foam pad)
• Trekking shoes or boots
• Thermal underwear
• Trekking pants
• Fleece
• Breathable parka and over pants
• Gaiters
• Gloves
• Thermal socks
• The necessary spare cloth
• Wool hat
• Sun hat
• Sun glasses
• Sun screen (UV is very strong during the southern spring, from september thru december)
• Personal items
• Lamp
• Trekking poles (recommended, if you are used to them)
• Water bottle
• Photo camera & batteries
• Personal medication
• Garbage bags (we Leave No Trace)

Weather in Patagonia is unpredictable. Not very cold, but it is usually windy. The best advice is to dress in the classic 4 mountaineering layers: thermal underwear, shirt, polar and wind/rain jacket.