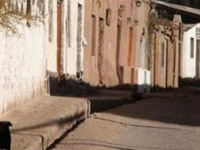 This amazing tour of Discovery through the Desert of Atacama and the North of Argentina, combines beautiful landscapes with the possibility of enjoying the culture and customs of its inhabitants. Places such as the Altiplánicas lagoons, the Geysers of the Tatio Volcano at Atacama, together with the Quebrada de las Señoritas, the community of the Hornaditas, and the Quebrada de Sapagua in the northeast of Argentina, will allow us to have a much more intimate and complete look at the region.
This is a regular group walking activity but with a minimum of 2 passengers.

Departures 2013/2014: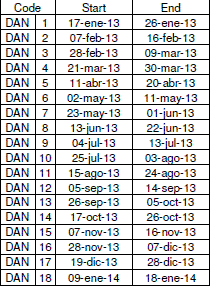 10 days - 9 nights

Season: All year

Begins: Thursdays


Starts at: Calama Airport (Chile) (or by bus from Salta, Argentina)

Ends at: Salta Airport (SLA).


Itinerary
Day 1: San Pedro de Atacama – Valle de la Luna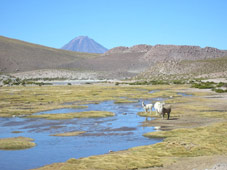 We welcome you at the Calama Airport and transfer to San Pedro de Atacama in the North of Chile. In the afternoon there is the option to take a trek to the Valle de la Luna; located at 17 km from San Pedro in the area of the Cordillera de la Sal, it has an especial appeal for its amazing resemblance to the lunar surface.
Lodging at Hosteria Double or Single Room
Included meals: none

Day 2: Altiplanicas Lagoons
This day we will visit the Miscanti and Miñique lagoons; with their wonderful colours are located over 4000 meters over sea level. On our way to them, we stop at Toconao, an old town made complete of stone, where the art craft is also well known. Another highlight of this journey is the 'Salar de Atacama' which has an extension of more than 100 km. We will also appreciate some of the birds and fauna that have managed to survive in one the most deserted places of the earth. We will require around 6 hours. Our lodging will be approx. 90 Km from San Pedro de Atacama.
Lodging at Hosteria Double or Single Room
Included meals : breakfast (B)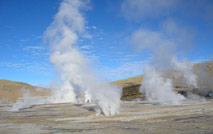 Day 3: Geyser Del Tatio
This day starts quite early in the morning. We will depart before dawn (4 AM) in order to go to the Tatio volcano, located 4500 meters over sea level. When we arrive we will go to the geothermal field located in Los Andes mountain range. Early in the morning this place has an amazing steamy activity because of the high temperatures that are coming up from the craters. The boiling water, the huge columns of steam and the water that runs underneath the surface make of this day an unforgettable experience. We will have breakfast here, and then we will take a walk and those who want may take a bath in the warm water near the geysers. This is the reason why we recommend you to bring, besides warm clothing, a swimming suit, towel & sun block.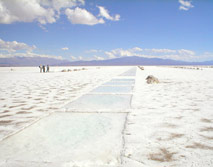 Lodging at Hosteria Double or Single Room
Included meals : breakfast (B)

Day 4: San Pedro de Atacama - Tilcara
Early in the morning we say goodbye to San Pedro de Atacama and by bus we travel to Argentina crossing Los Andes mountain range. Through 'Paso de Jama' mountain pass we will be able to appreciate the Salinas Grandes; then descending over the path of the Lipan, we will make a stop at the town of Purmamarca and its famous Mount of 'Los Siete Colores'. Later we arrive to our lodge at the picturesque town of Tilcara in la Quebrada de Humahuaca, Jujuy.
Lodging at Hosteria Double or Single Room.
Included meals: breakfast (B)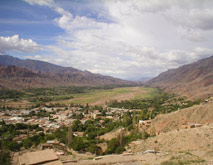 Day 5: Devil's Throat - Tilcara
We will have the morning free to walk and discover the town and its unique places such as: la Plaza Grande, la Plaza Chica, the town Church and the Pucará de Tilcara, an important milestone in the Quebrada de Humahuaca. In the afternoon we will do a small trek to the devil's throat, walking along the old Kollas paths and watching the amazing view. After 3 or 4 hours we finally go back to Tilcara.
Lodging at Hosteria Double or Single Room.
Included meals: breakfast (B)

Day 6: Tilcara – Iruya - Humahuaca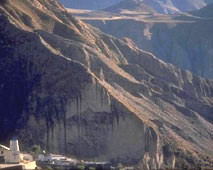 Early in the morning we travel out of Jujuy towards the North in a local bus and go to a picturesque village located right in between the mountains, Iruya, just in the north of Salta. From it we can have a special view since its right on the end of the valley. We will have enough time to walk around the town, discovering its beautiful cobbled streets and its typical chapel. After enjoying the town we return back to the Quebrada to spend the night at Humahuaca.
Lodging at Hosteria Double or Single Room.
Included meals: breakfast (B) and box lunch (BL)

Day 7: Uquia - Quebrada de las Señoritas
Alter breakfast we leave Humahuaca by bus and after 10 km we arrive to the small town of Uquía. Once there we visit the church of "San Francisco de Paula" with its altar laminated in gold by the Jesuits in 1691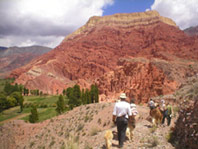 - year in which it was built - and adorned with the pictures of the 'arcabuceros angels' brought from Cuzco. Then we do a small trek to La Quebrada de las Señoritas or Yacoraite. The intense red color makes of it a shocking place; also because it's known for its paleontological deposit where fossils of the last great mammals that inhabited the Earth have been found, like milodontes and gigantic perezosos. Back in Uquía we visit a place where vicuñas are raised and an old hydraulic mill. At the end of the day we go back to Humahuaca.
Lodging at Hosteria Double or Single Room.
Included meals: breakfast (B) and box lunch (BL)

Day 8: Pueblo de Santa Ana - Miradores de la Yunga
We depart early to the view point of the cloudy forest with our 4 x 4 van until we reach the 4400 meters, lowest point between the mountains of the Zenta. From there we descent to the small village of Santa Ana, last town before the jungle region of Yungas. After lunch we take a small trek through the area until we reach the Abra, natural balcony to the subtropical forest of the Yungas. Finally, we go back to our lodge in Humahuaca. During this night we will enjoy the northern ''Peñas''.
Lodging at Hosteria Double or Single Room.
Included meals: breakfast (B) and box lunch (BL)

Day 9: Quebrada de Sapagua - Hornaditas Community
We travel in our mini bus from Humahuaca to the Quebrada de Sapagua, where we will take a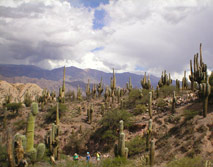 walk around the area. For there we continue to the small community of Hornaditas, where we will be able to share the life experience of the natural inhabitants of the area, who will open the door of their homes. Finally we go back to the city of Salta.
Lodging at Hosteria Double or Single Room.
Included meals: breakfast (B) and box lunch (BL)

Day 10: Salta – Salta Airport
After breakfast we are transferred to the Salta airport where our tours ends.
Included meals: breakfast (B)

Price: 2327 u$d (Hosteria - Double room)
2902 u$d (Hosteria - Single room)

Included services: Incoming services, 9 nights in Hostería double or single with private bath and breakfast (3 nights in San Pedro de Atacama, 2 in Tilcara, 3 in Humahuaca and 1 in Salta), Bilingual guide (Spanish – English) during all the excursions, 9 breakfast(B) and 4 box lunch (BL), all transportation as shown in the itinerary combining private and regular buses, transfers from/to airports at Calama & Salta.

Not included services: international and domestic flights, airport taxes, transfers in Buenos Aires, nights in Buenos Aires, drinks, foods not detailed, optional excursions, medical covering, tips, services not detailed in the program. More information