Patagonia Adventure Trip together with Antarpply Expeditions offers you the chance to board this cruise to Antarctica as a complement for our Adventure & Trekking Tours. In fact, Antarctica is one of the most beautiful and mysterious places in our planet, that's why we consider this extension cruise as the ideal culmination for all those who do not want to leave Patagonia without having seen the most unexplored place on earth. For over two centuries Antarctica, the White Continent, has attracted scientists and adventurers for its unmatched natural beauty. Nowadays, this frozen land has opened its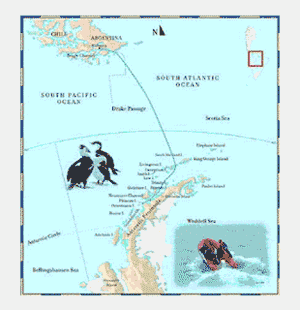 doors to world travellers who have become mesmerized with its unique wildlife, its majestic icebergs and its superb scenario. The southern summer in Antarctica, from November to March, with its endless daylight renders the exploration unique. The expedition leader will take voyagers to remote locations where only a few men have set foot on. While landing in zodiacs, large penguin colonies, magnificent whales, and breathtaking icebergs and glaciers will be at sight. Voyages to Antarctica can usually last from 8 to 15 days, and even if the itinerary might be the same for all of them, its changing climate and the whims of stranded icebergs prevent the possibility that two voyages could be alike, the overwhelming and sometimes awesome views are never the same. In our way back from Antarctica, the scenery will be different.



Departures 2011/2012:



Duration may vary depending departure

Oct

29

Nov

Dec

1, 10, 20

Jan

9, 19, 28

Feb

7, 16, 26

Mar

6, 16, 25

Apr
RED dates are full - please ask




12 days - 11 nights




Season

: November to March




Starts at:

Ushuaia Harbour


Ends at:

Ushuaia Harbour



ITINERARY




Day 1:Depart from Ushuaia


Embark the 'Ushuaia' in the afternoon and meet your expedition and lecture staff. After you have settled into your cabins we sail along the famous Beagle Channel and the scenic McKinley Pass.



Day 2

& 3: Crossing the Drake Passage


Named after the renowned explorer, Sir Frances Drake, who sailed these waters in 1578, the Drake Passage also marks the Antarctic Convergence, a biological barrier where cold polar water sinks beneath the warmer northern waters. This creates a great up welling of nutrients, which sustains the biodiversity of this region. The Drake Passage also marks the northern limit of many Antarctic seabirds. As we sail across the passage, Antarpply Expeditions' lecturers will be out with you on deck to help in the identification of an amazing variety of seabirds, including many albatrosses, which follow in our wake. The Ushuaia's open bridge policy allows you to join our officers on the bridge and learn about navigation, watch for whales, and enjoy the view. A full program of lectures will be offered as well. The first sightings of icebergs and snow-capped mountains indicate that we have reached the South Shetland Islands, a group of twenty islands and islets first sighted in February 1819 by Capt. William Smith of the brig Williams. With favorable conditions in the Drake Passage our lecturers and naturalists will accompany you ashore as you experience your first encounter with the penguins and seals on Day 3.



Day 4

to 8: Exploring South Shetland Islands and Antarctic Peninsula


The South Shetland Islands are a heaven for wildlife. Vast penguin rookeries, beaches ruled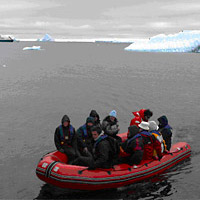 by Antarctic fur seals and southern elephant seals make every day spent in this amazing island group unforgettable. Sailing through the narrow passage into the flooded caldera of Deception Island and the chance to swim in the hot springs of Pendulum Cove is truly amazing. King George Island, the largest of the South Shetland Islands, features colonies of nesting Adélie and Chinstrap Penguins, Kelp Gulls, Blue-eyed Cormorants, Antarctic Terns and Southern Giant Petrels and is home to scientific bases of many different countries. Macaroni, Chinstrap and Gentoo Penguins as well as elephant seals await you at Livingston Island. The Antarctic Peninsula's remarkable history will provide you with a type of excitement often only associated with the early explorers. You will have plenty of time to explore its amazing scenery, a pristine wilderness of snow, ice, mountains and waterways, and an incredible wide variety of wildlife. Apart from penguins and seabirds you are very likely to see Weddell, crabeater and leopard seals as well as Minke, killer (orca) and humpback whales at close range. We hope to navigate some of the most beautiful waterways (depending on the ice conditions): the Gerlache Strait, the Neumayer Channel, and the Lemaire Channel, the latter are narrow passages between towering rock faces and spectacular glaciers. We plan to make at least two landings per day. Possible landing sites may include: Paradise Bay is perhaps the most aptly named place in the world and we attempt a proper landing on the continent . After negotiating the iceberg-strewn waters of the Antarctic Sound, we hope to visit the bustling Adélie Penguin (over 100,000 pairs breed here) and Blue-eyed Cormorant colonies on Paulet Island. The Nordenskjöld expedition built a stone survival hut here in 1903. Today its ruins have been taken over by nesting penguins. Further exploration may take you to Melchior Island, Cuverville Island, Portal Point, Neko Harbour, Pléneau Island and if ice conditions permit, to Petermann Island for a visit to the southernmost colony of Gentoo Penguins.



Day 9 & 10: At Sea crossing the Drake Passage, northbound


We leave Antarctica and head north across the Drake Passage. Join our lecturers and naturalists on deck as we search for seabirds and whales and enjoy some final lectures. Take the chance to relax and reflect on the fascinating adventures of the past 10 days on the way back to Ushuaia.



Day 11: Ushuaia




We arrive at Ushuaia in the early morning and depart the 'Ushuaia' after breakfast.



Price: prices depend on departure date and type of cabin


Departure Dates 2011 - 2012

Prices

Voyage Code

Departure

Arrival

Cabin C

Cabin B

Cabin A
CABINS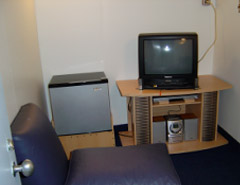 Suites:


5 Outside cabins with windows on the upper deck (G), private facilities, 2 lower beds, lounge, TV, video, VHS, DVD, fridge. Suite 201 features two double beds, Suite 202 one double bed and a sofa bed. Suites 204 and 207 feature a third berth. Suite 207 has portholes.



A Cabins: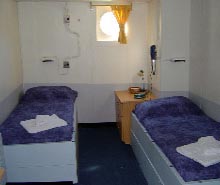 8 Twin outside cabins with portholes on the upper deck (G), private facilities, 2 berths (upper/lower). Cabins 205 and 211 feature two lower berths.



B Cabins:


12 Twin outside cabins with portholes on the main deck (E) and semi-private facilities, 2 berths (upper/lower).



C Cabins:


8 Twin inside cabins on the lower deck (D) with semi-private facilities, 2 berths (upper/lower).



Included Services:

Voyage to Antarctica aboard the 'Ushuaia' as indicated in the itinerary. All meals throughout the voyage aboard the 'Ushuaia'. All shore excursions and activities throughout the voyage by zodiac. Program of lectures by noted naturalists and leadership by experienced expedition staff. All miscellaneous service taxes and port charges throughout the program. Comprehensive pre-departure material. Detailed post-expedition log



Not included:

international and domestic flights, airport taxes, transfers in Buenos Aires, nights in Buenos Aires,pre-and post land arrangements; transfers to / from the vessel; passport and visa expenses; Government arrival and departure taxes; meals ashore; baggage, cancellation and personal insurance (strongly recommended); excess baggage charges and all items of a personal nature such as laundry, bar, beverage charges and telecommunication charges; and the customary gratuity at the end of the voyages (guidelines will be provided), services not detailed in the program.



TERMS & CONDITIONS




Rates:


All rates are quoted per person in US dollars, based on twin occupancy. Twin cabins (except suites) are available for single occupancy at 1.5 times the share rate. Suites may be reserved at 2 times the share rate. A third berth in two of the suites maybe occupied at 50% of the published twin share rate. Shared accommodation can be arranged on request. All rates are subject to change and the company reserves the right to modify the published rates without prior notice.



Reservations and Payments:


A deposit of 30% of the cruise fare is required per person to confirm reservations with final payment due 90 days prior to departure.



Cancellations:


All requests for cancellations must be received in writing. Cancellations received 90 days prior to departure are fully refunded less an administrative fee of US$ 500 per person. From 89 days up to and including the day of departure all deposits and tariffs are forfeited. If cancellation occurs within the 89 day period and full payment has not yet been received, the full penalty will still apply and unpaid amounts are due immediately. For these and other reasons mentioned below, you are strongly encouraged to obtain trip cancellation insurance. Antarpply Expeditions reserves the right to cancel any voyage prior to departure in which case payments will be refunded in full without further obligation on our part.



Itineraries:


The itineraries published are for reference only and are subject to change due to weather and ice conditions, or due to any other reason beyond our control, at the Master's and Expedition Leader's discretion without prior notice. Passengers have no right to any refund, any other consideration or claim whatsoever in the event of inevitable itinerary changes.



Insurance:


The company strongly urges their passengers to purchase a comprehensive travel insurance including medical evacuation and repatriation, and trip cancellation. Antarpply Expeditions or Patagonia Adventure Trip shall not be responsible for any injuries to persons (whether or not resulting in death) or damage or loss to property.



Passenger Contract:


The passenger must sign a passenger contract which constitutes the sole contract and his/her agreement to all the terms and conditions relative to the cruise to Antarctica. By accepting the Antarctica cruise ticket the passenger also agrees to its terms & conditions.



Further Explanations:


We hold the right of changing the itinerary or cancel any of the activities when any natural cause (or any other cause of any type) justifies it in order to look after the group safety. All terms and conditions are the ones imposed by Antarpply S.A., the company that provides the service.