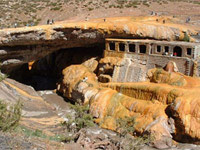 Mendoza is proud of having the highest peak of South America, the Mount Aconcagua, but also the breathtaking mountain landscape is complemented with the great offer of outdoors activities. Potrerillos and Penitentes villages and Puente del Inca, a natural formation with thermal springs that flows at 35° C, and the Horcones valley are the high points of this program, together with an unforgetable rafting at Mendoza river.

Departures 2010/2011: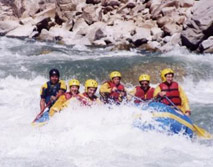 every day

5 days - 4 nights

Season: all year

Starts at: Mendoza Airport (MDZ).

Ends at: Mendoza Airport (MDZ).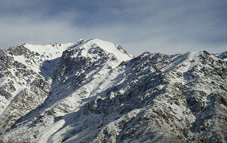 Itinerary
Day 1: Mendoza Airport - City of Mendoza
We will welcome you at the airport of Mendoza City and transfer you to your lodge. You will have the rest of the day to walk around town.
Lodging at Hosteria Double or Single Room
Included meals: none

Day 2: Penitentes Trekking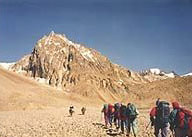 Transfer from the Hotel to the Bus station. Our guide will pick you up from your hotel at 05:30 AM to take the regular bus that leaves at 06:00 AM, to the high peaks of the Andes mountain range. The bus will leave you at Penitentes, at 2650 m over sea level, and 8km far from Puente Del Inca. We will arrive at this little town and have a walk around the Penitentes area, where you can ascent the hill slope up to reach a viewpoint from where you can admire the majestic Mount Aconcagua, the highest peak in America with 6959 m. This trekking will depend on the wheather conditions, the estimated walking time may vary from 3 to 6 hours. We will return to a Mountain Refuge, which has beds, mattresses, bed linen, hot water and a little restaurant where a Chef prepares breakfasts and dinners.
Mountain Refuge.
Included meals: breakfast (B), box lunch (BL) and dinner (D)

Day 3: Trek Horcones - Mt. Aconcagua Viewpoint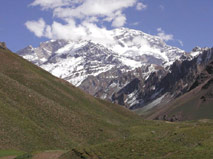 We will take a bus to Puente Del Inca. We will visit this natural bridge and then we will have a trekking across the Aconcagua Provincial Park, by the "Quebrada del Río Horcones". From there, and regarding on the weather conditions, we can admire again the Mt. Aconcagua. As an option, you can use the hot baths of the former hotel. During the afternoon, we will return to Penitentes and then, we will travel to Mendoza.
Lodging at Hosteria Double or Single Room.
Included meals: breakfast (B)

Day 4: Rafting at Mendoza River
After breakfast, we will travel 60 kilometers from Mendoza to Potrerillos. We will have a rafting activity, descending the river for about 80 minutes approximately. After midday we will return to Mendoza city where we will have the rest of the day to enjoy the area.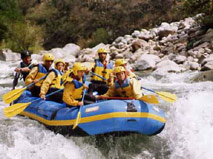 Lodging at Hosteria Double or Single Room.
Included meals: breakfast (B)

Day 5: Mendoza City - Airport
After the breakfast, transfer to the airport where this trip finishes.
Included meals: breakfast (B)

Price: 568 u$d (Hosteria - Double room)
722 u$d (Hosteria - Single room)

Included services: Incoming services, 3 nights in Hostería double or single with breakfast, 1 night in a mountain refuge, Bilingual guide (Spanish – English) during all the excursions, 4 breakfast(B), 1 box lunch (BL) and 1 dinner (D), half day rafting in Mendoza river, trekking activities detailed in the program, all transportation as shown in the itinerary combining private and regular buses, transfers from/to Mendoza airport.

Not included services: international and domestic flights, airport taxes, transfers in Buenos Aires, nights in Buenos Aires, drinks, foods not detailed, optional excursions, medical covering, tips, services not detailed in the program. More information