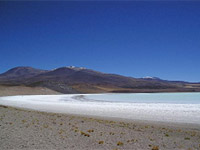 San Pedro de Atacama is a small desert village located on the northern tip of the great Atacama salt field. It is consider the archaeological capital of Chile nowadays. The beauty of its geographical location and clear skies makes of it a unique place. The Adventure at Atacama will take us to places such as the Altiplánicas lagoons, the Geysers of the Tatio Volcano at Atacama; this will allow us to have a much more intimate and complete look at the region. A night next to a lagoon surrounded by flamencos will make of this one unforgettable experience.
This is a regular group activity but with a minimum of 2 passengers.

Departures 2013: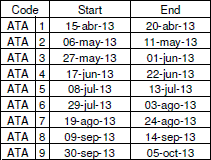 6 days - 5 nights

Season: April to October

Begins: Tuesdays


Starts at: Calama Airport (Chile) (you can also arrive by bus from Salta, Argentina)
Ends at: Calama Airport (Chile). The tour can start in Salta (Argentina) and from there take the bus to San Pedro de Atacama. In this case, you will probable need an extra night. The same can happen at the end of the tour. The passenger can take a bus to la Quebrada de Humahuaca or to Salta in Argentina.

Itinerary
Day 1: San Pedro de Atacama – Valle de la Luna
We welcome you at the Calama Airport and transfer to San Pedro de Atacama in the North of Chile. In the afternoon there is the option to take a trek to the Valle de la Luna; located at 17 km from San Pedro in the area of the Cordillera de la Sal, it has an especial appeal for its amazing resemblance to the lunar surface.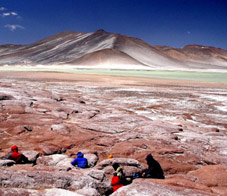 Lodging at Hosteria Double or Single Room
Included meals: none

Day 2: Altiplano Lagoons
This day we will visit the Miscanti and Miñique lagoons; with their wonderful colours are located over 4000 meters over sea level. On our way to them, we stop at Toconao, an old town made complete of stone, where the art craft is also well known. Another highlight of this journey is the 'Salar de Atacama' which has an extension of more than 100 km. We will also appreciate some of the birds and fauna that have managed to survive in one the most deserted places of the earth. We will require around 6 hours. Our lodging will be approx. 90 Km from San Pedro de Atacama.
Lodging at Hosteria Double or Single Room
Included meals : breakfast (B)

Day 3: Geyser Del Tatio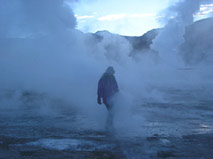 This day starts quite early in the morning. We will depart before dawn (4 AM) in order to go to the Tatio volcano, located 4500 meters over sea level. When we arrive we will go to the geothermal field located in Los Andes mountain range. Early in the morning this place has an amazing steamy activity because of the high temperatures that are coming up from the craters. The boiling water, the huge columns of steam and the water that runs underneath the surface make of this day an unforgettable experience. We will have breakfast here, and then we will take a walk and those who want may take a bath in the warm water near the geysers. This is the reason why we recommend you to bring, besides warm clothing, a swimming suit, towel & sun block.
Lodging at Hosteria Double or Single Room
Included meals : breakfast (B)

Day 4: Salar de Tara - Camping
This day we will do a trek inside the Salar (desert made of salt stone) where we will walk to discover its capricious formations. To our amazement, once into the Salar we will camp next to a lagoon surrounded by flamencos. The sunset will be the perfect time for us to take unforgettable pictures.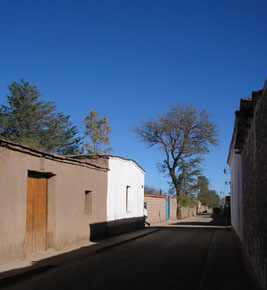 Lodging at Semi full Camping
Included meals : breakfast (B), box lunch (BL) and dinner (D)

Day 5: Salar de Tara – San Pedro de Atacama
We will have the morning free to discover by ourselves the place and later we will go back to San Pedro, first walking and then in our van. Once there we will have the rest of the day to walk around the town.
Lodging at Hosteria Double or Single Room
Included meals: breakfast (B) and box lunch (BL)

Day 6: San Pedro de Atacama
After breakfast, end of our services
Included meals: breakfast (B)

Price: 1908 u$d (Hosteria - Double room)
2362 u$d (Hosteria - Single room)

Included services: Incoming services, 4 nights in Hostería double or single with breakfast, 1 night in Semi–Full Camp (included: tents and dinner tent or saloon. Not included: sleeping bag or insulating mattress), Bilingual guide (Spanish – English) during all the excursions, 5 breakfast(B), 1 box lunch (BL) and 1 dinner (D), excursion to the Altiplano Lagoons, excursion to the Geysers Del Tatio, all transportation as shown in the itinerary combining private and regular buses, trekking to the Salar of Tara with 2 days at camping (during this time the traveler has to porter his own personal equipment including his sleeping bag and insulating mattress).

Not included services: international and domestic flights, airport taxes, transfers in Buenos Aires, nights in Buenos Aires, drinks, foods not detailed, optional excursions, medical covering, tips, services not detailed in the program. More information

List of suggested personal equipment:
• Backpack, 60 /70 lts
• Sleeping bag, down or synthetic, for -10ºC
• Sleeping mattress (therm-a-rest type)
• Trekking shoes or boots
• Thermal underwear
• Trekking pants
• Fleece
• Breathable parka and over pants
• Gaiters
• Gloves
• Thermal socks
• Swim suit & towel (for a warm bath at Atacama geysers)
• The necessary spare cloth
• Wool hat
• Sun hat
• Sun glasses
• Sun screen / block (UV is strong)
• Personal items
• Lamp
• Trekking poles (recommended, if you are used to them)
• Water bottle
• Photo camera & batteries
• Personal medication
• Passport/Visa (if needed) to cross the border between Argentina & Chile.
• Garbage bags (we Leave No Trace)