---
Qué dicen ustedes acerca nuestro.
Comentarios de nuestros viajeros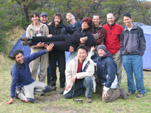 "Fernando, I just wanted to say "Thank You" for making our trip to Patagonia a huge success. Constance and I thoroughly enjoyed the trip, and appreciated all the work you put in to making our vacation a success. I look forward to going back to Patagonia someday, it was beautiful. What a great vacation! "
Lee Plummer
"Fernando, just wanted to tell you how much I enjoyed my holiday in Argentina and how great the trip was, and I'm not sure I can decide what the best bit was! All the guides were great, I really enjoyed the walking and camping, and the weather on the whole was good! The National Parks - both Los Glaciares and Torres del Paine are amazing places, and I have seen many things that I'm likely to never see again! Back in Buenos Aires I was out having fun with some of the other people from the trip! I hope to return to Argentina one day! What a great place - thanks for all your organisation. It all ran like clockwork! "
Sarah Molyneux
"... we are back to work but fondly remember the wonderful time we had. We have shown our slides and pictures to many people. They are all awe struck. Both my wife and I think what a wonderful group we had. Keep in touch! "
Ashok Bogani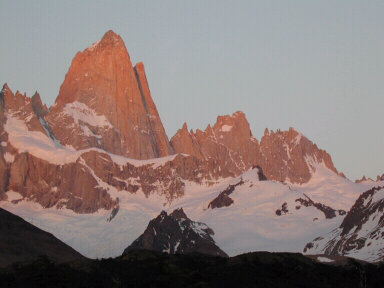 "Fernando, thank you so much for all your help in organizing this trip. I thought it was absolutely wonderful and will most definitely recommend Camino Abierto and Patagonia Adventure Trip to my friends. In particular, I thought Pepe was a wonderful guide. He had just the right balance between being informative and just being "one of the gang". Thank you again for all your help."
Alisha Morgan
"Patagonia fue maravilloso. Pasé un gran momento con todos en los treks. El viaje completo estuvo muy organizado y libre de problemas. No tuve que preocuparme por nada. Tuvimos algunos días muy buenos con el clima y otros no tan buenos. Por lo tanto tuve la oportunidad de experimentar la verdadera Patagonia y su clima salvaje. Julietta, Guido, y Chino estuvieron maravillosos. Disfruté pasar tiempo con ellos, todos ellos aman mucho la Patagonia y saben mucho acerca de la historia natural del lugar. También pasé dos días realmente buenos en Buenos Aires. Fue todo un cambio con la Patagonia. Ahora que estoy de vuelta trabajando en San Diego, tengo que decir que extraño mucho a la Argentina. Estoy esperando retornar algún día."
Chris Tiemeyer
"Fernando, I just wanted to let you know that we had a great trip. Thanks for all of your help."
Ken Fischl
"Fernando, my son Alec and I had a wonderful time on your Fitzroy trip in 2003. My photo of Fitzroy won "best of category" in a local photo competition a couple of weeks ago! "
Colin Campbell
"I miss Patagonia everyday. I don't know if I can tell you enough what an

AWESOME trip it was. Our guides were always very knowledgeable, friendly and welcoming. They really made an effort to get to know us and to make our trip as enjoyable as they could. Patagonia itself is absolutely beautiful and amazing. When people look at my pictures they tell me I should work for National Geographic. I tell them I really have no photographic talent, it is just really hard to take a bad picture of something so beautiful. The adventure-challenge level was just right for me. There was lots of hiking (up lots of mountains) but it was never too challenging or dangerous (there were no scenes from Cliffhanger). Everyday was perfect, hike for 8-12 hours, go back to the tent, drink some wine, eat some excellent food (the cooks were awesome!) and go to bed exhausted. My favorite day of the trip was when we did the Glacier Hike in Fitz Roy. It was the hardest day of hiking, but what a great experience. I loved that our guide for that trip did not speak one

word of English, but somehow communicated all the necessary things. There was another guide with us who was there for the whole trip who did speak English so he helped interpret. None of us fell in a crevice so that was good. I do have to say I was in quite a bit of pain from kicking myself with the crampon so many times. I think we were all in agreement that they need to change the name from "Holiday on Ice" to something a little more adventurous. Holiday on Ice sounds like a figure skating contest. We met so many nice people while we were there, unfortunately I haven't kept in touch with all of them. When we were at your house we talked about how people can come from completely different backgrounds and yet when you get to know them, you find that you are actually very similar. Fernando, I just wanted to say thanks for all of your efforts in making our trip so memorable."
Kate Braun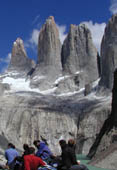 "Fernando, Beth and I wanted to thank you and Camino Abierto for the great vacation we just had in Argentina and Chile. We usually prefer to travel on our own, but for this trip we chose to take a guided tour because of our unfamiliarity with the area, and we were not disappointed. The guides were excellent, our fellow travelers were an interesting and congenial group from the far corners of the world, and the organization took care of all the details, leaving us free to enjoy the spectacular trekking. I hope we can return to Argentina for another such trip in the not too distant future."
Stephen Slatin
"We loved the trip - the hikes were beautiful, each in different ways. The camping was great - the sites, the beauty, some of the patagonian winds and the people (several of whom I am still in contact with). The staff was always helpful and warm and friendly and knowledgeable. One needs only to want to travel, love the outdoors, and he/she won't be disappointed!"
Cathy Schaffer
"Fernando, gracias por todo, estuvo genial. "
Montse Taulina

"Patagonia Adventure Trip was an incredible experience. The company was very flexible to work with and did a tremendous job tailoring our trip to be the experience we wanted. The guides were all excellent and the scenery was spectacular. My friend Keith really enjoyed all the beautiful Argentine women that were also on the trip. And my friends Kate and Ellen more than enjoyed the scenery of the good looking guides leading them up the mountains."
Susan Weigel
"Fernando, I'm sure we will all get around to thanking you. It was a wonderful trip, starting with the guides, interesting people all, who loved what

they were doing, continuing with a robust group of trekkers well traveled and equipped to enjoy themselves, good food, good wine, good sleep from good exhaustion, and ending with the outstanding Patagonian weather. Just let's say this trip was perfect for me, and if I was foolish enough to have any particular expectations, this vacation handily exceeded them."
Sthephen Bowles
"Fernando, thanks for all your help. All the guides were very good. Scenery was beautiful and the drivers were excellent. Thanks again. "
Elena Capsuto
"In February 2001 I spent 8 days in the Torres del Paine park with 15 other people camping and trekking with Oscar Pandolfi as our guide. I often think of the trip because of the shear beauty of the area, the great variability of the weather and the diversity of the scenery. We hiked in valleys, over rock falls and up to a huge glacier with surprisingly blue icebergs calving off of it. Each day was a new adventure.

I attribute much of the success of the trip to our guide, Oscar, who was very knowledgeable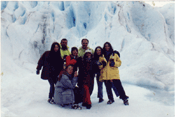 about the fauna and flora of the area and who made sure that we were well provided for and enjoyed ourselves as a group during meals and on the trail. I highly recommend a trip to Patagonia for anyone who would like a unique trekking experience."
John Finston
"The Patagonia trip was a great trip!!! I enjoyed all aspects of the trip. Words and photographs are inadequate to describe Patagonia. Patagonia is a place to be experienced. I feel privileged to have had the chance to experience it with you, as our guide, and the rest of our group. I particularly appreciated your knowledge of the local flora and await the publishing of your book. I appreciated the patience, humor, and expertise that you demonstrated. As well, I appreciated all the hard work that you and the boys (don't tell Marianne that I used that word) did for us. I appreciated the diversity of our group. I enjoyed getting to meet everyone. John and I are going to go up Mt. Whitney in October.

I thought the amount of hiking that we did was just right. It wasn't too short and it wasn't too long. It was nice to come to the refreshment tent after a day's hike and have a nice, cold Pisco Sour. The scenery was just amazing. And your ability to hold off the rain was incredible. All in all, I thought it was a very, very special trip."
Mike Kent Lee
"I took a trip with Oscar's company in February, 2001. I had a marvelous time. The weather cooperated (thank goodness), and we had several wonderful days of hiking. He structured the trip so that all people could hike at their own pace, and not feel left behind, or could ahead and have fun at their own pace. It was great to know that your pace, for that day, could always be accomodated. In addition, it was wonderful to come home to meals that we all enjoyed. I had a super time, and would definitely recommend Oscar's trip to a friend!"
Lea Hallert
[ Arriba ]
---
Qué decimos nosotros acerca nuestro.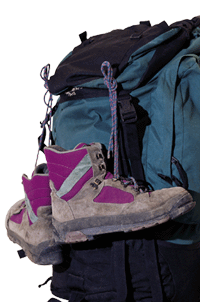 Qué es Patagonia Adventure Trip?
Patagonia Adventure Trip es una Agencia y Operador de Viajes de Aventura que con el nombre de Camino Abierto se convirtió hace unos años en uno de los operadores de turismo aventura más importantes de la Argentina.

Es una empresa joven, en expansión que ha guiado en los últimos 10 años a más de 270 contingentes de distintas agencias provenientes de todo el mundo, que hoy no sólo son clientes satisfechos sino también amigos.

Es un emprendimiento comercial que cuenta con la garantía de paisajes naturales de excepción y con una cobertura profesional que permite dar respuesta a las exigencias internacionales del turismo aventura.
Un equipo altamente profesionalizado.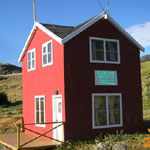 Patagonia Adventure Trip como empresa de viajes y turismo opera en Argentina a través de su oficina de Comercialización y Coordinación de Capital Federal, a las que se suma una oficina receptiva en Patagonia ubicada en El Chalten, Prov. de Santa Cruz dentro del Parque Nacional Los Glaciares.

Los servicios ofrecidos cubren las más rigurosas expectativas en cuanto a calidad pueda requerirse; tanto en el personal, el transporte, la alimentación y la información, como en el equipamiento de aventura (campamento full con carpas base doble, bolsa de dormir, colchoneta

asilante, carpa comedor con mesa, bancos y vajilla ). Pero -ante todo- se asegura un máximo nivel de seguridad y de cuidado de los mínimos detalles. Estamos dedicados a darle turismo aventura con el mejor confort esperable al aire libre.

¿Cómo satisfacemos sus necesidades ?
Ofreciendo:
• Con un excelente staff de guías de montaña, todos titulados por la Asociación Argentina de Guías de Montaña y habilitados por Parques Nacionales.
• Con la mayor cordialidad para atender servicios receptivos

convencionales o de aventura, en forma individual o grupal.
• Con la posibilidad de brindar una amplia oferta de actividades que comprende desde cabalgatas, overland o navegación hasta safaris fotográficos y desde trekking de día para grupos familiares hasta cruces de hielo continental para infatigables aventureros.
• Con la posibilidad de que usted se sume a las actividades regulares o de planificar una actividad exclusiva para su grupo o institución.
• Con una intachable reputación adquirida a lo largo de años de servicios y de contacto directo con grupos de turistas locales y extranjeros.
Patagonia Adventure Trip está a su servicio para que alcance su satisfacción.
[ Arriba ]
---
Qué dicen ellos acerca nuestro.
Artículos de Prensa



Hiking on a Glacier in Patagonia
Publicado el 19-Agosto-2001 por Clifford Krauss.

Patagonia: Lodging and Dining Information.
Publicado el 19-Agosto-2001 por Clifford Krauss.
Como pueden observar, Clifford Krauss menciona a Camino Abierto. Patagonia Adventure Trip es la compañía que ofrece a través de Internet los viajes de aventura operados por Camino Abierto, que vende los mismos viajes a agencias de viajes de todo el mundo. En otras palabras, Camino Abierto es "La Fábrica" y Patagonia Adventure Trip es "El Outlet de Internet ".

[ Arriba ]